The automotive industry in North America is dealing with a number of capacity and service lead time disruptions, many of which are shockwaves from the impact of the Covid pandemic. One of the most recent to be felt is the shift in volume imports from the east to the west coast of the US, a topic of discussion for carmakers and their logistics service providers at this year's Finished Vehicle Logistics North America conference in California.
The problem is caused by the current shortage in deep-ocean ro-ro capacity, the product of a hiatus in vessel building over the pandemic and the long lead time required to build new ro-ro ships. That capacity shortage has led to a focus on faster returns for vessels travelling from east to west, with many delivering vehicle volumes to west coast US ports rather than onward shipment through the Panama Canal to the east coast of the US. That, in turn, has necessitated a landbridge between the west and east of the US, something that is putting additional pressure on inland rail and road services, already dealing with capacity and labour shortages.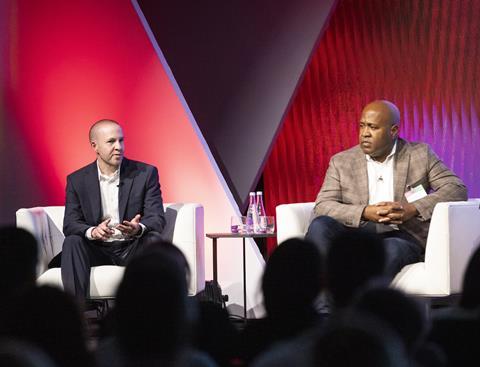 Rapid responses
Anthony Clevio, director of global outbound logistics at General Motors, said the situation, which arose rapidly, had forced the carmaker to adapt quickly. Clevio acknowledged the cascading impact the shift in volumes has had, a situation that has led to huge differences in ocean and inland distribution, but he also noted how quickly service providers had responded, not an easy thing given the capital-intensive nature of the industry. Clevio said logistics providers had worked hard to redesign complex networks and stood up a lot of capacity both inland and in short-sea services. Supported by this, GM is now looking at a range of coping strategies.
"We are looking at things we have never done before, such as shipping vehicles in containers for the first time for probably a couple of decades," he said. "We are doing a lot of dealer pick up, and doing driveway where it makes sense. We are pulling all the different levers because it is huge amount of freight that the west coast is having to accommodate."
Clevio added that it was now more important than ever "demand sense" further out and understand in advance where GM would be likely to exceed capacity in certain parts of the delivery network.
Darren Acker, director of vehicle logistics operations at Glovis America, agreed that everything had changed regarding vehicle movements and his company was also looking at multiple options to manage the shift in volumes for the foreseeable future because it is going to take some time to recover from the capacity shortage in ocean shipments.
"The entire network is being disrupted by the landbridge," he said. "We are working with rail partners to source equipment. We need different solutions at the destination. Where we were rail loading, we are now rail unloading. We have labour and space issues as well."
The lesson to be learned longer term, is that OEMs need to take greater notice and look for subtle changes in the working environment to proactively resolve them.
Closer communication
That awareness depends on greater communication with service providers, not least on the rail network, and the Class 1 rail freight companies are having to make some big adjustments and ensure railcar capacity is where it should be, even though the flow of vehicles is running in reverse at certain points of the network.
D'Andrae Larry, group vice president for automotive at Norfolk Southern, said the whole network was being affected and his company was in close conversation with OEM customers and service partners to try and gain forecast clarity and mitigate the disruption to the typical east to west flow of volumes.
"We have to have a transparent conversation with the market and ask what are the collateral impacts that may occur, and under that make sure we are doing everything we can to move every vehicle as fast and consistently as possible," said Larry.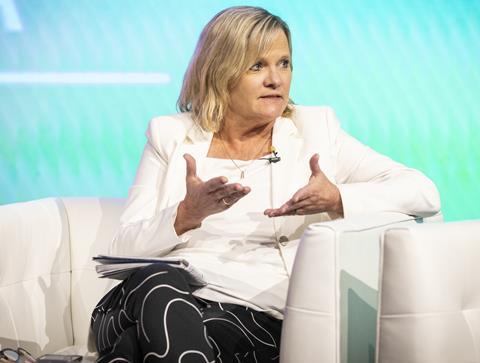 Once off the railhead ramps, however, there are renewed pressures for the road haulage providers, one of the biggest of whom is Jack Cooper. Julie Luna, chief commercial officer for rail and intermodal at Jack Cooper Mexico said the company was at the end of the proverbial 'pig in the python', taking on the surge in vehicle numbers from the west coast at the vehicle distribution centres or railheads.
"We have around 30,000 vehicles at 17 different offsite yards and you have to be flexible with that capacity," said Luna, adding that it was not easy to manage that with existing assets that quickly. Luna said Jack Cooper had innovated and expanded its network using brokerage to contract more smaller carriers. "With that purchased transportation that we then flex as much as we can and hopefully not lose as much volume when it hits destination," she said.
The impact of the ro-ro capacity shortage on inland vehicle distribution in the US is yet another lesson for the automotive industry to work more closely together on capacity and demand planning and in doing so achieve a greater scope of operations, and the likely impacts both short and long term. Carmakers need to collaborate on macro planning and involve logistics providers across the modes, said GM's Anthony Clevio.
Glovis America's Darren Acker agreed that collaboration and shared information with key partners was essential in dealing with sudden disruption and for long-term security.
"That is the way to move things forward… and it cannot happen without the collaboration of all parties involved," said Acker. "Rare things happen rarely but we have to be more conscious of common events that cause these rare events."