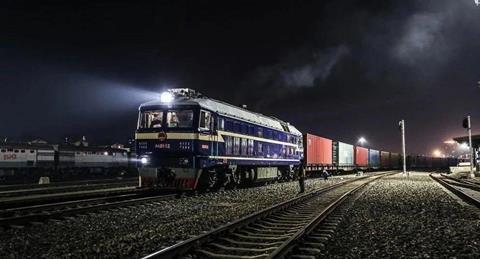 Chinese logistics provider Changjiu Logistics has recently added an alternative rail entry point between China and Russia for Europe-bound shipments of Volvo's S90 passenger car, which is made at the carmaker's plant in Daqing. Containerised S90 units can now pass through the Suifenhe Railway Port in south-eastern Heilongjiang province, as well as the established Manzhouli crossing.
Changjiu has been moving containerised volumes of the S90 by rail from Daqing to Zeebrugge in Belgium since 2017.
The first train, which arrived in Zeebrugge at the end of April, was loaded with 41 containers each containing three S90 sedans.
"This is the first finished vehicle Sino-European train by Harbin Railway Department via Suifenhe Railway Port," said Changjiu Logistics in a statement. "The smooth operation [through] Suifenhe Port, which is the largest railway port to Russia in Heilongjiang province, can effectively relieve the problem of the transportation time limit when the Manzhouli port is congested. At the same time, it also provides more options for Volvo Daqing's vehicle export route, making the project more flexible and ensuring transport time and service quality."
Long distance rail connections are central to the comprehensive international trade and infrastructure plan that China launched in 2013 known as the Belt and Road Initiative. The rail route follows the old Silk Road trading route and forms part of an overland interconnecting infrastructure called the Silk Road Economic Belt.
In other news Changjiu Logistics has recently established a $1.27m joint venture with Beijing Glovis Warehousing and Transportation for containerised finished vehicle transport services between China and south-east Asia.