In the face of congestion at Turkey's main finished vehicle handling ports, Chery Automobile has opted to put cars in containers for import through DP World's Yarímca port terminal. Other Chinese carmakers are expected to follow suit and benefit from services DP World is providing.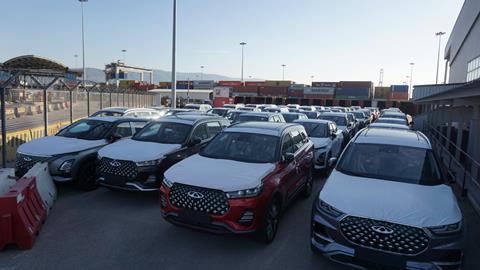 With 10,000 Chery SUVs in the process of being imported in containers, DP World said containerised vehicle shipments would become a key part of how the carmaker will now deliver vehicles to the European market. DP World said it had started the containerised Chery imports this year and all would be delivered by next year.
DP World is providing unloading and vehicle storage services to Chery, and has designated a specially designed area within the terminal to carry out those services.
A spokesperson for DP World said the company is providing technology-led services to reduce inefficiencies across automotive supply chains and in Turkey it is looking to add further volumes of China-made vehicles to its container imports.
"In Turkey, we are expecting high demand from customers like MF Motor, BYD Auto and GWM [Great Wall Motor], as they will soon start their trade [there]," said the spokesperson. "We also currently provide unloading services to Skywell and are working on our strategy for the potential demand increase."
Vehicle volume increase
Congestion reported at Turkey's vehicle-handling ports comes at a time when vehicle sales in the country have seen a strong surge. The number of vehicles handled across ro-ro ports in Turkey in 2022 reached 719,000, an increase of 48,000 compared to the previous year (671,000 vehicles handled in 2021). This number is expected to increase further in 2023. That increase is leading to backlogs at the vehicle terminals leading carmakers to see alternative methods of shipment.
Annual sales of non-commercial passenger vehicles in Turkey stands at around 350,000 units.
The delays in the delivery of imported vehicles caused by that congestion has inflated prices for both new and used vehicles in Turkey. However, DP World said that its ability to put three SUVs in a container thanks to a racking system provided by Chery Automotive, has helped improve the cost efficiency of moving the vehicles from China to Turkey, with the reduction in shipping costs passed on to the end consumer.
"The automotive industry has experienced significant changes and supply chain challenges in the last few years globally, and in Turkey that ranged from microchip to ro-ro capacity shortages," said Rashid Abdulla, CEO and managing director of DP World Europe. "I'm proud that our team could implement an alternative solution that helped to ease these challenges – and that we played a key role in the expansion of Chery Automotive into the Turkish market."
Capacity and containers
While containerisation of finished vehicles represents a fraction of overall vehicle shipments, a number of services have been established in the wake of capacity shortages affecting ocean ro-ro services. DP World said numbers had increased.
"In Q2-Q3 this year we received around 4,000 containers and in Q4 we are expecting 3,000 more," said DP World's spokesperson. "When we compare these numbers with the last year, we have experienced a 90% increase in volumes."
The decrease in ro-ro capacity for vehicle shipments since August 2022 has been pushing up unit rates for carmakers. Increased vehicle exports from China, which were up 54% last year, are adding to demands on ro-ro capacity in the wake of Covid, when many vessels were laid up or sold off. At the same time, the container shipping sector saw a better-than-expected recovery and rates have dropped.
According to DP World the switch to containerised vehicle deliveries means its Yarimca terminal is evolving into a key hub for new vehicles entering Turkey and neighbouring markets. DP World Yarímca has an annual handling capacity of 1.15m TEUs