Hyundai Glovis is investing $1.89 billion in 12 dual-fuel car carrier vessels that will be able to run on liquified natural gas (LNG). Each ship will be able to carry 10,800 car equivalent units (CEUs) making them the world's largest pure car and truck carriers (PCTCs). Delivery of the vessels is expected to be complete by 2027.
By making the investment in the record-capacity vessels Hyundai Glovis is addressing the current shortage in ro-ro capacity. Assembly plants have gradually rebuilt factory output post-Covid but that has been met with a deficit of vessels in the ro-ro sector because operators scrapped or laid up vessels during the pandemic. Finished vehicle logistics providers were wary of placing new orders for vessels given the market uncertainty and the levels of investment required, which led to longer dwell times at ports and variance in shipping times. That is now beginning to change, with some sizeable investments made by both logistics providers and carmakers in their own deep and short-sea fleets in 2023.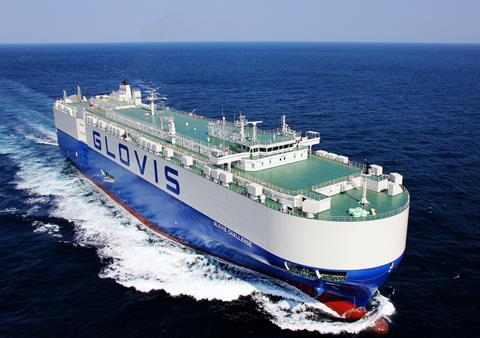 For example, earlier this year Wallenius Wilhelmsen signed a letter of intent for four next-generation vessels and up to eight optional vessels, each with capacity for 9,350 CEUs. The vessels, which WW has designated Shaper Class, will run on methanol dual fuel. They are being built by Jinling Shipyard and will start being delivered from the second half of 2026.
Höegh Autoliners has also ordered 12 Aurora Class PCTCs that will run on ammonia and methanol. It has signed an agreement with Yara Clean Ammonia for the supply of ammonia.
Ceva Logistics is also leasing vehicle-carrying vessels from its parent company CMA CGM on a long-term basis to offer OEM customers end-to-end services, including between China and Europe.
Anhui Provincial Port and Shipping Group also set up ro-ro transport joint venture with Chinese car makers Chery and JAC at the end of 2022, and ordered three LNG dual-fuelled 7,000-CEU PCTCs from Wuhu Shipyard earlier this year.
According to analyst Offshore Energy a total of 48 vessels equal to 375,000 CEUs of capacity were ordered between January and October last year. By the start of November, the orderbook stood at a more than 10-year high of 86 vessels of 641,000 CEUs, according to data from Clarksons Shipbrokers.