Hyundai Glovis has established and applied a new set of rules specific to the ocean transport of electric vehicles (EV) in readiness for the increase in volumes over the next decade.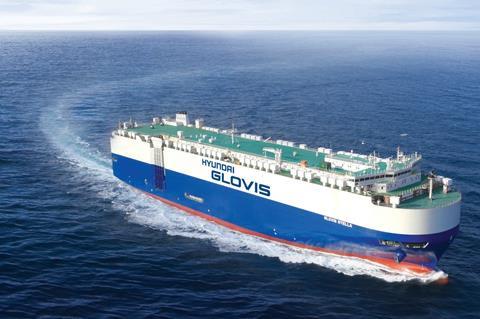 The company said it aimed to offer a safer and more secure service by adopting a customised EV ocean transport solution – one that would also make it more competitive in the provision of finished vehicle services.
The management guide stipulates that EVs be clearly distinguished on the shipping request form from vehicles driven by combustion engines. Hyundai Glovis has also customised a system to share data on the condition and charge of each vehicle in transit with the shipper. As part of the procedure, loaded vehicles are constantly monitored for such things as battery condition and charge, and exterior quality, while the temperature and humidity of the loading deck is also checked.
The logistics provider said it was providing a one-stop inclusive service to its vehicle-making customers, including terminal handling and ocean transport, something it said would help those start-up EV makers that did not have the logistics experience of more traditional and established OEMs.
As part of the service it is offering, Hyundai Glovis has written an emergency manual for EV handling and made quarterly EV emergency training mandatory for employees. The lithium batteries used to power EVs are designated a dangerous good by the UN Model Regulations and any damage sustained in transit requires special measures to deal with. All new vessels built for Hyundai Glovis will have safety equipment installed to deal with any fires.
Hyundai Glovis said it moved around 180,000 units by ocean in 2020 but given the various environmental goals regulated by governments around the world, including China, Europe and the US, the company expects that to grow substantially. The logistics provider currently has a deep-ocean car carrying fleet of 90 vessels.