Clarity is needed on measuring emissions in shipping but a poorly judged methodology could disadvantage finished vehicle logistics and disrupt the supply chain
There is no doubt that the automotive industry needs to reduce carbon emissions but how is that reduction measured and how do you make sure that regulations create a level playing field?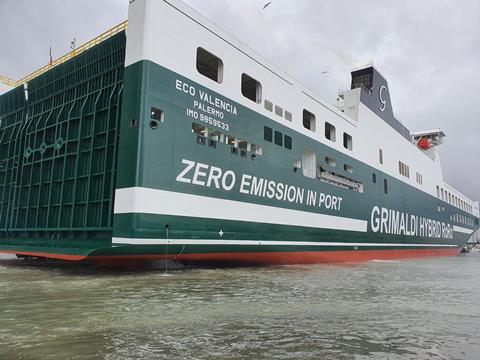 Since September 2018, all new vehicles have had to adhere to new Worldwide Harmonised Light Vehicle Test Procedure (WLTP) standards, which aim to provide accurate fuel consumption figures. Ocean-going vessels however, which may carry many different types of cargo, use different types of fuel and are operated in different ways, which presents another conundrum entirely.
"It's about comparing apples with apples, especially in a competitive scenario," says Michael Maass, vice-president of sustainability solutions sea at Kuehne + Nagel. "To be perfectly honest, the devil is pretty much in the detail here because there are different parameters that may be applied in calculating the emissions; the variables are immense. My first recommendation when entering into such discussions with customers, is that we have a very clear picture about which parameters are to be considered."
To monitor its own supply chain emissions, French carmaker Renault signed up to the FRET 21 Charter, which was agreed at the Paris climate summit by the AUTF, the French logistics association, and Ademe, the French government agency for ecological transition. Within this group, a monitoring methodology for transport activities was developed by Ademe. However, that is just one voluntary initiative and does not completely eliminate unfair comparisons.
The International Maritime Organisation (IMO) has a proposed 'carbon intensity indicator', which would assign ships a A-E rating based on their carbon emissions in operation. That means that, unlike with emissions regulations in cars, improvements could be achieved by changes in how the vessel is operated, rather than just hardware changes. The IMO is aiming to review the proposals and put it into effect by 2026. However, it was only announced late last year and the actual details are not yet clear.
Daniel Gent, energy and sustainability manager at ro-ro shipping line UECC, agrees that there is a need for a standardised methodology to calculate maritime transport emissions. However, he said that given what is known so far about the IMO's carbon intensity indicator, the measure actually risks penalising ro-ro vessels. That is because most methodologies, including the one used by the IMO, judge vessel capacity by the weight of the cargo transported as a measure of efficiency.
"[Using deadweight] is a good way to measure a vessel's weight with everything else installed on board, and how efficiently the vessel itself and all of the cargo on board is transported," he said. "The problem we have in [ro-ro] is that we are a volume-based shipping sector, so we very rarely run out of weight. What does happen is that there's no space left to fit more vehicles on board."
Instead, Gent said that gross tonnage should be considered, as it takes the cargo volume into account, something that is already the case in the context of cruise ships.
The need for speed
While it is positive to consider the whole operational context, Gent warns that it could have unintended consequences if not implemented sensibly. The issue is that by slowing vessels down, they generally become more efficient, but the danger of that would be that the world could end up with lots of vessels to make up enough capacity, but sailing extremely slowly.
What is called slow steaming has already yielded benefits, said Florence Ughetto, sustainable logistics expert at Groupe Renault: "Many of the shipping lines we have contracts with are already using slow steaming to reduce their fuel consumption and therefore their carbon emissions. That is why we are working on network design to optimise our flows [and] reduce total lead time."
It might be difficult to find further gains by just changing the way marine logistics operates, however. Professor Dominic Hudson, professor of ship safety and efficiency at Southampton University, said that operational changes are indeed important and will help to achieve the IMO's 2030 goals. What is more, if the shipping industry is to eventually start using hydrogen or ammonia to power vessels, it will be important to find other fuel efficiency gains, as those fuels have a lower energy density and provide less power.
He also reckons most big ship operators are already doing good route, draft and trim optimisation, and it is hard to see further substantial gains.
"I think something like 85% of the world's shipowners own fewer than 10 ships [and they] don't necessarily have the budgets and haven't done the research, and [they] are still implementing these things," noted Hudson.
Hurry up and wait
The need for change might therefore be more fundamental, and it might be the whole supply chain that needs to work differently. This is an idea to which Wallenius Wilhelmsen subscribes, having presented the Orcelle Wind, a concept for a primarily wind-powered ro-ro vessel that travels at a lower speed than conventional equivalents. Erik Noeklebye, executive vice-president and chief operating officer for shipping services at the company said: "We will not be able to tackle the climate challenge that already is upon us without thinking differently about how we plan and operate future supply chains.
He continued: "We believe a mindset change across the entire supply chain is needed to have any chance of reaching zero emission operations. […] The way we orchestrate supply chains, specifically through increased access to data, and improved use of digital technology as a key enabler, will be paramount to ensure future financial and environmental viability of our businesses."
Wallenius Wilhelmsen's CEO at the time the concept was presented, Craig Jasienski, put it more strongly. He explained that the issue was to do with a fragmented supply chain, with the inventory changing hands several times, from the production side, to a wholesaler, to a retailer and finally to an end consumer. Those hand-off points and the responsibility for carrying the inventory costs, are what is creating an environmental inefficiency in the supply chain he said.
"We're rushing product across the oceans to meet a date requirement at the destination, only to watch that vehicle sit in stock for 30-60-90 days," he said. "The reason for that is the wholesale times and the way the supply chain is broken up into these inefficient blocks. And as long as we don't have sustainability as a metric in the decision making in the supply chain, we're going to continue to 'hurry up and wait'."