Carmakers in Mexico are to benefit from a new rail-linked vehicle distribution centre (VDC) in the central Bajío region, home to biggest concentration of vehicle manufacturing in the country.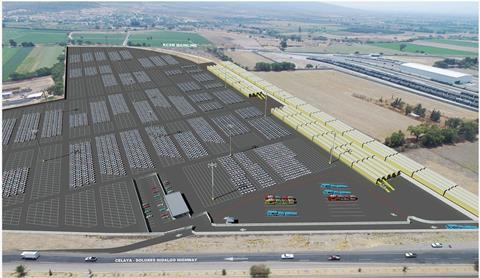 [Updated Oct 28] Terminal operator Suministros Industriales Potosinos (Sipsa) and terminal developer TransDevelopment Group (TDG) are collaborating with North American Class 1 railroad Kansas City Southern (KCS) on the set-up of the Central Bajio VDC, which is being built in Comonfort, in Guanajuato state. The facility is expected to be operational in early 2022.
The terminal's initial storage capacity will be between 1,000 and 2,000 vehicles but will grow to 10,000 units as the market requires, according to TDG.
The facility will be able to handle annual throughput of 50,000 vehicles in the initial phase but that has plenty of scope to grow.
"The facility's throughput at full build-out could exceed 200,000 vehicles per year," said Alex MacGregor, senior development manager at TDG. "The site is unconstrained, with additional expansion land and track capacity to support multiple phases of expansion."
The companies have yet to reveal the investment being made in the facility or how that will be split but is being developed, owned and operated by Sipsa and TDG, which set up a joint venture for the project. KCS will coordinate rail shipments and operations with the partners at the facility.
Rail car capacity
"It makes sense to unload rail cars in the Bajío, near many of the assembly plants where empty rail cars are needed," said Rodrigo Flores, vice-president of automotive and intermodal at KCS. "From a network perspective, the location is perfect. "The Central Bajío VDC allows our automotive network to continue growing and increases the rail car availability for the customers we serve in our network."
Flores explained that this would add velocity and capacity to rail movements of finished vehicles, helping to speed the turnaround of multilevel rail cars making the round-trip between the US and Mexico and reducing congestion.
Making rail wagons available when they are needed for finished vehicle movements on the North American rail network has been an issue for the providers of rail services and their OEM customers in North America. Precision railroading is not as flexible to change as trucking and the shift to bigger vehicles means that, despite having plenty of tri-level vehicle-carrying rail cars in the network able to carry smaller passenger cars, there are fewer bi-level rail cars in the right place when needed for pick-up and SUV moves, though equipment is being added.
Alex MacGregor expanded on the challenges facing finished vehicle distribution in Mexico. "The Central Bajío VDC will address two important challenges. The first is the lack of prime terminal capacity – not just land to store vehicles but capacity that's connected to railroad and port infrastructure at strategic locations," he said. "Without this, we end up facing excessive shuttling costs and vehicle handling."
He said the the second challenge was the need for flexiblity in the supply chain. "Vehicle distribution in Mexico is dynamic, and manufacturers regularly shift between land, rail and sea solutions. This facility is at the intersection between the KCSM rail lines to Veracruz, Lázaro Cárdenas, and the US border. It is the perfect origin/destination point for an operation that uses all three routes, and must change flexibly between all three."
Strategic location
The Bajío region comprises the Mexican states of Guanajuato, Queretaro, Aguascalientes and Jalisco, each of which has a strong showing of OEM and parts supplier production. Guanajuato alone has five of major OEMs making cars there: GM (Silao); Honda (Celaya), Mazda (Salamanca), Toyota (El Grande) and VW (Silao). Nissan's two plants in Aguascalientes is also a major site of production.
Learn more about vehicle logistics in North America at the forthcoming Finished Vehicle Logistics North America conference, which is being held between 9-11 November in California.
The VDC will be located adjacent to Sipsa's high-capacity transload and crossdock terminal and on the KCS mainline between Monterrey and Lázaro Cárdenas. It will also have direct truck access to Mexico City, Guadalajara and the wider Bajío region.
The facility will also benefit the direct service KCS Mexico recently started in and out of the port of Veracruz on the Gulf Coast of Mexico for its OEM customers.
According to KCS the project was completed in coordination with the Integral Port Administration of Veracruz (Apiver) to improve rail and ship asset utilisation, efficiency, connectivity and security. The port of Veracruz is Mexico's biggest finished vehicle-handling port and, until last year, the busiest in North America.
"We see strong potential in the Bajío for finished vehicles," said Xavier Zermeño, managing director of Sipsa. "At our existing facility in Comonfort, we handle inbound parts for assembly plants through our crossdocks and general cargo tracks, which are also available to accommodate finished vehicles during construction of the central Bajío VDC. This terminal is a natural location to increase our capabilities to include finished vehicles, right in the heart of automobile production in Mexico."
Flores added that the facility would connect a robust automotive terminal network. KCS has terminals in Toluca and Monterrey. "It's the perfect destination for inland port moves of imported automobiles into Mexico, and [KCS Mexico's] new connection to the Veracruz port makes this opportunity even bigger."
The facility will also improve access to and from important markets in Mexico, including Guadalajara, Leon, Querétaro and San Luis Potosí.
Industry veteran Dennis Manns, currently executive vice-president of North Motors Group and a consultant to the automotive sector, was advisor on the project, and was able bring his experience of the Mexican automotive industry to the table.
"It really started from a conversation I had with the executive KCS team to offer a new solution for shippers in the region," Manns told Automotive Logistics. "As you know, I have spent a great of time in Mexico with my years at American Honda. I always thought that part of Mexico could really benefit with a benchmark facility and an optimal location. This is really a special project with a great alliance."
Mexico is now ranked as the sixth largest producer of vehicles globally and in 2021 is estimated to make 3.38m vehicles as it climbs back from the pandemic to the 3.9m average in the three years prior to 2020, according to figures from the Mexican Automotive Industry Association (Amia).