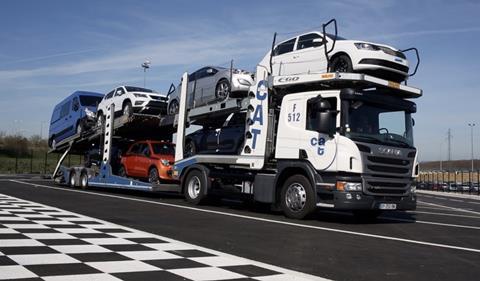 The Renault-Nissan-Mitsubishi (RNM) Alliance has extended its contract with Groupe Cat for the distribution of vehicles in France and Belgium. The new three-year contract will see around 350,000 vehicles delivered per year, including across international borders.
In France the logistics provider is handling imports from overseas through the ports of Le Havre, Montoir-de-Bretagne and Sète. According to the company it is now strengthening distribution to the Paris area and the eastern part of the country. As part of the new contract Groupe Cat is now also handling the entire distribution of the Renault Clio from the Nova Mesto plant in Slovenia to the French market. The company continues to bring in cars from the Palencia and Valladolid plants in Spain.
In Belgium, meanwhile, Groupe Cat is managing throughput at the port of Antwerp, as well as compound and distribution from Seneffe, south of Brussels. According to the company this includes the preparation, storage and value-added services including paintwork, bodywork and accessorisation. Groupe Cat is also bringing in vehicles for distribution in Belgium from the Renault Sandouville plant in France.
"After signing the contract for distribution in Germany early this year, we are very satisfied to have been selected again by the Alliance for distribution in France and Benelux," said Edoardo Cumino, sales director at Groupe Cat. "Thanks to our extensive European network, our complete service offer and multimodal transport, Groupe Cat represents a real asset for the optimisation of our customers' logistics."