The electric vehicle maker delivered a total of 343,830 vehicles, out of total production for the quarter of almost 366,000. That shortfall was also skewed by regional batch building at the end of the quarter, according to Tesla, but like every carmaker in Europe, it is finding it difficult to secure enough trucks to move its vehicles to the end customer.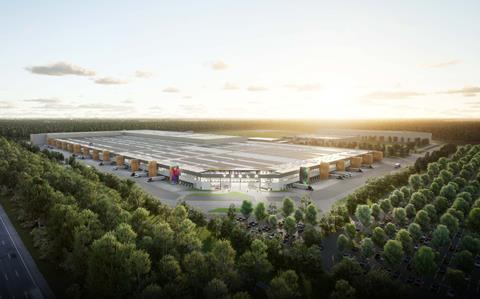 At this autumn's annual conference of the Association of European Vehicle Logistics (ECG), Jorge Milburn, director, sales and delivery operations, Tesla Motors (Europe), said that ramping up to full-scale production had been a massive challenge and was affected by the shortage in vehicle logistics capacity. Tesla does not have a typical planning and distribution model and is looking for stable flows to its customers rather than end of quarter pushes, in part because Tesla does not have a lot of space to store vehicles at the Berlin location.
Peaks and troughs
Prior to production in Germany, Tesla's outbound logistics in Europe for imports had been exemplified by variance, with periods of high demand for logistics services followed by periods of very low demand. In that situation the carmaker was relying heavily on the spot market but is now looking for stable capacity.
"Fortunately, we are now moving to a more balanced regional mix, with our production in Germany," said Milburn. "This is a significant change and opens up a lot of possibilities for much longer and sustainable partnerships with logistics providers and that will help [logistics providers] with investment [in new capacity]."
That regional mix is balanced with vehicles in from overseas which it continues to import through Europe's ports from China.
However, as it scales up an annual production capacity of 500,000 in Germany, Tesla needs trucks directly on hand to take its vehicles from the end of the assembly line straight to the dealer location for onward customer delivery. However, trucks are not easy to secure in the current climate where 1,500 truck units have been lost to the European market since Covid and there are not enough drivers to man the trucks that are left.
Reading the right signals
Milburn said that Tesla was well aware that the fundamentals of logistics capacity in Europe had changed, something it needed accommodate to ensure demand signals were actually going through to production and capacity was being scheduled and mobilised in the right way. That was only way to bring more flexibility into distribution, he said.
As a generation Z vehicle manufacturer, Tesla benefits from having the latest software vertically integrated into its operations, which gives it advantages for planning and capacity allocation. Milburn said Tesla is working on measuring and integrating the signals from its logistics providers to ensure it optimised the way it demands capacity from the market. That goes for both short and long-term forecasting with the aim of a more purposeful utilisation of resources.
Milburn also chimed in with the call at this year's ECG conference to invest in more drivers and said that Tesla was willing to collaborate in what ever way it could to address the issue of the critical driver shortage.
Coverage from this year's ECG conference in Austria
1

2

Currently reading

Tesla willing to work with partners for stable outbound capacity

3

4