Toyota Logistics Services (TLS) has been working with logistics software expert Inform on a network optimisation project for finished vehicle deliveries in North America. Using the planning tool the carmaker has already identified a 3% cost reduction for its outbound logistics in the region, according to Inform.
TLS carries out an optimisation study every five years as part of its effort to make the delivery of vehicles more efficient, as well as improve safety and quality, with a focus on using more rail.
Most recently, the carmaker's logistics division has been working with Inform on this initiative. According to the software provider, the optimisation tool it has developed gathers information on the entire outbound logistics network, recording data on logistics service providers, rail and truck carriers, including carrier rates, and capacity volume information. With that input TLS is able to improve network stability and service quality.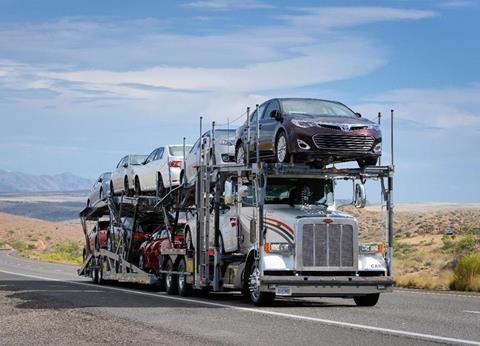 The latest project began with Inform establishing a baseline scenario that evaluated TLS' existing network and bid rates. Inform then created a scenario focused on pure cost optimisation and a limited set of restrictions with no limit on potential changes and, at this stage, the time that the respective transports would take was given a low priority.
The next step was to apply several competing business scenarios that accounted for different requirements and restrictions, along with information on areas such as cost, service level agreements and emissions.
On that last point, Toyota is looking for ways to make its logistics more sustainable, including through the introduction of more rail ramps to reduce truck miles. TLS is reviewing truck miles per unit and considering a ratio of rail to truck to determine carbon footprints, as well as factor in whether a carrier has a CO2-reduced fleet.
Refining the data
Having factored in emissions, costs and service level agreements, Inform applied further parameters, including minimum/maximum volume, number of journeys or legs, and distance between origin and destination. Other factors included lead times and the volume of business being allocated to individual carriers. Based all of the information gathered TLS was then able to make an informed decision on the best course of action to take.
"Using the Inform network planning tool, TLS is able to benefit from optimised routes and modes of transportation determined in conjunction with transport volumes, and with consideration to various restrictions and business rules," said Inform in a statement.
In general, each new calculation of scenarios can be redefined in terms of priorities each time and there are no limits to the individual priorities of the customer, according to Inform.
According to Inform, TLS can now interpret data and choose its best carrier partners based on their performance and related costs. The logistics division can issue RFPs that give competitive bid information because it is now able ask logistics partners to provide additional data.
The planning software features a user interface that does not require users of the planning tool to have programming skills, making its deployment more immediate.
Toyota has been rolling out its own separate system to improve visibility and efficiency in the outbound delivery of vehicles. Project ETA aims to precisely locate where a car is in the delivery process using its vehicle identification number (VIN) and send notifications every time that particular vehicle crosses a milestone in the delivery process.
Kevin Austin, the man leading Project ETA and vice-president of demand and supply management at Toyota Motor North America, will be explaining more about the project and the carmaker's outbound strategy at this week's Finished Vehicle Logistics North America conference taking place in Huntington Beach, California between June 7-9
Learn more about the agenda at FVL North America