Data from the China Association of Automobile Manufacturers (Caam) shows that between January to March this year total vehicle exports from China reached 582,000 units. This is an annual increase of 58.3% according to Caam, up from the 357,000 vehicles exported in the first quarter of 2021.
Of this number, passenger vehicles (which include light commercial vehicles) accounted for 452,000 units, while (larger) commercial vehicles accounted for 130,000. These marked increases of 61.9% year-on-year (y/y) for passenger vehicles and 47.2% increase for commercial vehicles in the Q1 period, according to Caam.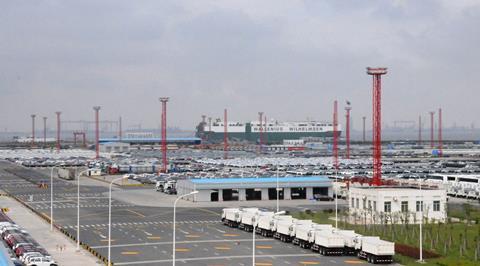 However, the impact of the ongoing Covid-19 lockdown in Shanghai has actually lowered the growth rate at China's largest automotive port. The Chinese government is now pushing through decisive measures to fast-track vehicle exports from Shanghai.
A brake on growth
In January total vehicle exports from China hit 231,000 units, according to the Caam, marking an 87.7% year on year(y/y) growth rate. In February exports hit 180,000 units, marking a 60.8% y/y increase but a 21.9% decline compared to the previous month. In March the figure dropped again to 170,000 units, a decline of 5.5% from the preceding month, and an annual increase of just 28.8% y/y.
The China Association of Automobile Dealers (Cada) said that the main driving force for China's vehicle exports is demand for new energy vehicles (NEVs) in Europe, specifically those electric vehicles (EVs) built by China's biggest carmaker, SAIC Motor, as well as EVs built by Tesla. In the first quarter of 2022, a total of 120,000 NEVs were exported from China, of which 117,000 were passenger vehicles and 3,000 were commercial vehicles. In the first quarter of 2021, only 20,000 NEVs were exported from China, of which 18,000 were NEV passenger vehicles, that is battery electric vehicles (BEVs) and plug in hybrids (PHEVs).
Of the total vehicle exports in the first quarter, 272,800 units were exported from Shanghai port, which handled almost 50% of Chinese vehicle exports in the first quarter of the year. The congestion at the port because of the ongoing Covid-19 lockdown threatens to derail the overall growth in vehicle exports from China, and is now a pivotal focal point for the government to fast track measures to speed up the backlog.
Shanghai's Haitong Car Terminal in the Waigaoqiao port area is the largest ro-ro terminal in China, with a dedicated yard that can park 30,000 cars. The China News Service has quoted an official of the Waigaoqiao Port Area as stating that 56 customs officers are currently stationed overnight at the port, thus allowing operations to run 24 hours a day. This follows a new round of nucleic acid screening, containment and control measures also implemented in the port area. These measures allowed vehicles to be diverted to the Shanghai Nangang Wharf within the Waigaoqiao Port Area for onward shipment.
In the first quarter of the year vehicles made by SAIC, including both the MG passenger car brand and the Maxus Datong light commercial vehicle line have been exported from Shanghai in addition to other brands.