China's zero-Covid policy has led to a serious lockdown in Shanghai. Suppliers are unable to get key components out of the world's busiest container port because stringent Covid-testing procedures have halted operations and there are currently record numbers of vessels waiting to dock.
However, production of components in China is still crucial for vehicle production in Europe, which means the severe port congestion in Shanghai risks further disrupting an industry already battling the shortage in semiconductor supply, as well as other parts shortages resulting from the war in Ukraine.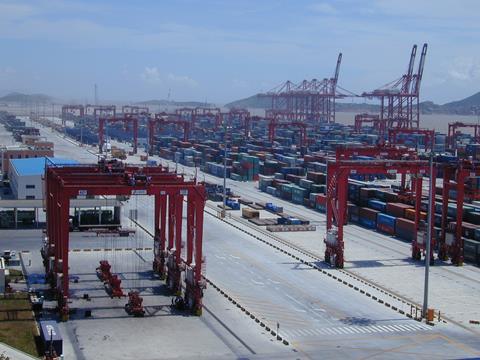 For example, where in normal times shipments of cars and components from China would dock at the Belgian ports of Antwerp and Zeebrugge, there is now a lull in imports. Jacques Vandermeiran, CEO of Antwerp Port Authority, said he expects a bigger mess than that witnessed in 2021, when similar measures taken to control the spread of Covid led to serious port congestion.
"There are more than 500 ships that are waiting for entrance in the port of Shanghai, but there are a few hundred blocked in the port of Shanghai," said Vandermeiran. "The immediate consequence is an increase of prices for shipping containers."
Vandermeiran said that once the lockdown ends those containers will suddenly reflood the supply chain.
"Global supply chains would be disturbed as a result. That's what happened last year, a few times. And then it's a mess all over the place," he said.
In the meantime, the delay in parts exports because this backlog risks delays in the release of new cars in Europe.
In response, parts suppliers in China are targeting alternative ports for export, such as Ningbo-Zhoushan, the world's third busiest container port. However, calling times at Ningbo have already increased from one day to between three or four days because of diverted shipping, according to the Journal of Commerce.
Inland, meanwhile, the Chinese government began reopening national highways and logistics hubs from April 25. Logistics companies do need to obtain a national pass so that their vehicles can travel during this period to and from high-risk areas but means goods can be transported between 22 provinces and municipalities, including the cities of Shanghai, Tianjin and Hebei, as well as the provinces of Jiangsu, Zhejiang and Fujian.
"Truck resources have improved recently, with the national pass applied by logistics and key production entities," a spokesperson for VW told Automotive Logistics. "However, there are still restrictions impacting production."
VW's joint venture with SAIC in Shanghai was forced to halt some production last month because of a shortage of staff and the arrest of essential parts supplies. That disruption was felt by a number of other carmakers based in the area.
Closed-loop conditions
As with other vehicle makers in Shanghai, VW-SAIC is currently manufacturing under very different conditions than normal. To comply with the strict Covid-19 lockdown protocols in place in the city, companies have applied a 'closed-loop' system of managing workers, meaning they are living within the confines of the factory complex.
"The safety of our employees remains a top priority," said a spokesperson for the carmaker. "To ensure this, we have introduced appropriate measures, such as nucleic acid testing stations in our factories and intensive preventive disinfection of common areas, such as company restaurants and sanitary facilities. In addition, we provide sleeping facilities (including tents) for employees who remain at the plant during lockdowns/closed loops, and ensure the provision and delivery of food and other necessary supplies (including for personal hygiene)."