Vietnamese electric vehicle (EV) maker Vinfast has delivered its first shipment of 781 VF8 electric SUVs to Nanaimo port, British Columbia, Canada.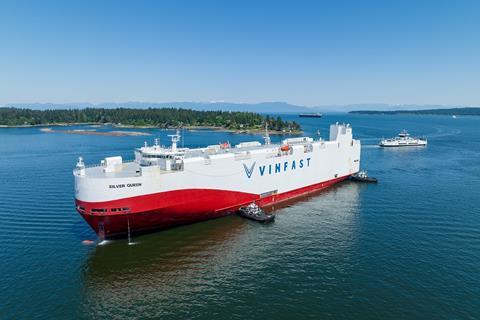 The first vehicles, shipped from Vietnam on April 16th, arrived in Canada as part of the total initial shipment of 1,879 vehicles exported to North America. Customers will receive deliveries from June 2023 onwards.
The delivery was made using transport and yard management software from Inform, which provides end-to-end transparency on the movement of vehicles from ordering through to final delivery. Back in November, Vinfast said the technology would make the process faster, more efficient and sustainable.
"Today Vinfast has taken another big step in its mission to foster the global electrification revolution," said Nguyen Thi Van Anh, CEO of Vinfast North America. "I believe Vinfast's non-stop efforts, together with its serious and methodical business strategy, will soon gain trust and support from Canadian customers."
The new vehicle processing centre (VPC) at Nanaimo port, which received the vehicles, opened in 2019 and is also used by Mercedes-Benz. The neighbouring Canadian port of Vancouver experienced a 6% decline in volume year-on-year in 2022, partly due to production delays and the resulting lack of vehicle supply in the first half of last year. However, there were signs of volume recovery in the second half of 2022.
The carmaker has been targeting the North American market in recent years and is now set to publicly list on the New York Stock Exchange (NYSE) through a business combination with Black Spade Acquisition Co, according to an announcement made last week.
The transaction is expected to close in the second half of the year, subject to regulatory and shareholder approvals, and will leave Vinfast's existing shareholders with approximately 99% shares of the combined company.
It is estimated that Vinfast will have an equity value of more than $23 billion following the deal. At the time of the announcement, Thuy Le, global CEO, Vinfast said the partnership "represents the perfect capital raising avenue for Vinfast's future global ambitions".
The North American market is also a target for Vinfast's expansion plans, with the carmaker planning to build a $2 billion electric vehicle and battery plant in North Carolina. The facility was originally set to begin production in 2024, but the firm has delayed construction because of problems with environmental permits. As a result, the plant will not begin production until 2025, as reported by Reuters.
Read more about the plans on our sister site, Automotive Manufacturing Solutions, here.