Disruption to the production of vehicles and a tightening of ro-ro capacity resulted in a 5.6% drop in vehicle handling at the US ports of New York and New Jersey in 2022, compared to the previous year. The port processed just more than 444,000 vehicles last year. For the first quarter of 2023 volumes were down by almost 25% compared to Q1 2022, with just over 89,500 vehicles processed.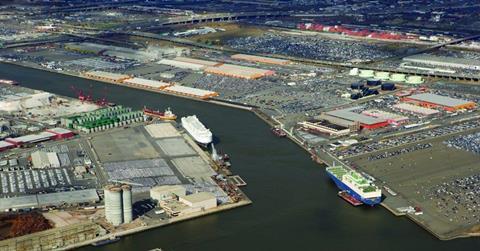 Ports across North America have been dealing with the consequences of volatile vehicle assembly caused by the production shortages of critical parts, including semiconductors. Since the second half of 2022 there has also been a significant tightening of available ro-ro capacity as global production numbers recovered ahead new vessel builds and exports from China began to surge. That has led to a -14% drop in vessel calls to the vehicle handling terminals in New York and New Jersey.
Container and ro-ro
The situation has led to an interesting turnaround in activity for the port of Newark, which last year was handling both finished vehicles and containerised parts deliveries being delivered simultaneously on ro-ro vessels because of capacity problems affecting container vessels in the wake of the pandemic. Those problems included tight vessel space, limited equipment, metred inland moves and high container rates.
"To maintain the production and serviceability of new finished vehicles, the automotive sector started an innovative programme here to help speed up auto parts delivery to dealers and car manufacturing facilities," said a spokesperson for the Port Authority of New York and New Jersey (PANYNJ). The programme shifted the conveyance of auto parts, traditionally shipped via container vessels, to crates loaded on the main decks of ro-ro vessels."
Vehicle throughput at ports of New York and New Jersey 2022

Exports

Imports

Total

71,636

372,493

444,129 (-5.6%)
| …and in Q1 2023 | |
| --- | --- |
| Imports | 12,404 |
| Exports | 77,163 |
| Total | 444,129 (-24.8% |
The situation affecting container movements has since normalised but at the same time, ro-ro capacity has become tighter, and now PANYNJ is seeing finished vehicles arriving in containers, though in limited numbers.
"The shift from parts arriving via ro-ro to parts and autos arriving via containers highlights the flexibility of services in the NY/NJ gateway," said the PANYNJ spokesperson. "Once landed, the port has extensive access to the region's highway network and is serviced by two Class 1 railroads, providing access to major inland destinations."
Supporting infrastructure
As more new ro-ro vessels come to market, which is expected to rebalance by 2026, volumes will return, with an increasing proportion of electric vehicles among them. The port authority said it is working closely with terminal operators, including BMW, Toyota Logistics Services and FAPS, to develop the necessary supporting infrastructure, such as EV charging stations.
To make vehicle processing more efficient PANYNJ has also implemented a new cloud-based vessel scheduling system for ro-ro vessels using the port's public berth infrastructure.
"The auto processors in the NY/NJ gateway operate using the latest technologies to stay ahead of anticipated import and export demand," said the port authority's spokesperson. "We expect that continued private investments will be made to keep pace with this competitive port market."
The port authority also said it was prioritising road improvements, dredging, and berth enhancements, as well as implementing agency-wide environmental sustainability programmes and initiatives, to ensure safety, security, and resiliency.
Read more about activity at the North American vehicle handling ports in the forthcoming summer edition of Automotive Logistics magazine, which will be published in print in May