Vehicle terminal operator FAPS is working with the Port Authority of New York and New Jersey (PANYNJ) to unload crated automotive parts from ro-ro vessels that are also delivering vehicles to Newark port.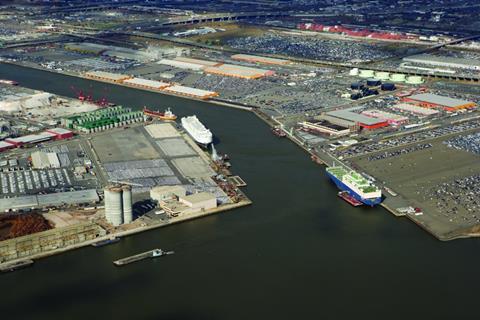 The initiative is in response to ongoing disruption to containerised goods movements around the world, which is leading to automotive parts shortages inbound to vehicle assembly plants. That in turn is leading to production downtime.
"This innovative approach aims to keep the supply chain fluid and the assembly plants humming as an adaptation to the current difficulties and delays with containerized cargo," said a spokesperson for PANYNJ.
Port congestion, and unpredictable transit and lead times in container shipping, have resulted in one of the most dismal and uncertain times for the maritime transport of goods, something that is not expected to improve until 2023, according to Drewry Shipping Consultants.
To counter this, since the first quarter of this year, carmakers and suppliers overseas have been packing automotive parts in crates, rather than waiting for available empty shipping containers. The crates being loaded into ro-ro vessels and secured with straps next to vehicles also destined for the US.
FAPS has been coordinating with PANYNJ, finished vehicle carriers calling at Newark port, along with stevedoring company Ports America, to move those crated automotive parts off the main decks of the ro-ro vessels also delivering finished vehicles.
On arrival, the crates are unloaded into a FAPS facility for receipt and storage they are loaded onto standard 53-foot tractor trailers destined for the vehicle assembly plants.
"Our port's size, capacity and breadth of capabilities through our tenants, stakeholders and their longstanding relationships with each other show that the port as a whole can operate like a Swiss Army knife," said Mike Bozza, assistant director of commercial development at Newark port. "Once we identify the issue, we can pull out a solution by thinking outside the box – or the shipping container."
The port authority said that some of the more difficult challenges it has been facing have arisen from the ongoing Covid pandemic. Working with key stakeholders and service providers it has focused on the collaboration, communication, and coordination iniatives stemming from the Council on Port Performance (CPP) to maintain an open and fluid port complex.
"The CPP, which was established in 2014, is a cross-section of stakeholders and representatives from all links of the supply chain logistics industry that convene to share knowledge and creative ideas and recommend ways to improve the flow of goods, communication, and customer service," said the spokesperson for the port authority.
Read more about the latest developments at the vehicle ports in North America in our forthcoming summer digital edition of Automotive Logistics and Finished Vehicle Logistics magazine