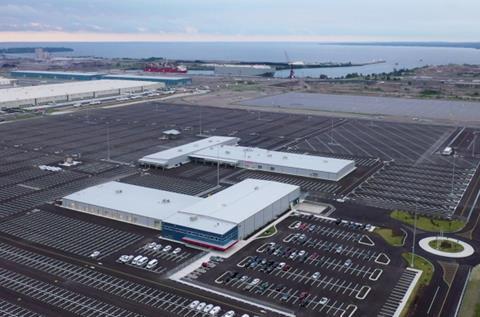 Volkswagen Group of America has started processing vehicles through its new terminal at the US port of Baltimore, which is being operated by Tradepoint Atlantic on a 20-year lease.
The first delivery of around 800 vehicles was made on July 20, shipped aboard the K Line vessel Bishu Highway.
The Baltimore terminal is VW Group of America's eighth vehicle processing operation in the US (including the inland terminal at VW's plant in Chattanooga). It includes a multimodal vehicle processing and storage facility.
VW vehicle terminals in US
Benicia, CA
Davisville, RI
Houston, TX
Jacksonville, FL
Midlothian, TX
San Diego,CA
Chattanooga, TN
The terminal, which is built on the former site of the Bethlehem Steel facility, is the largest private terminal within the port of Baltimore, according to VW. It covers more than 46 hectares and will handle around 120,000 vehicles a year from VW's European and Mexican production plants. Those vehicles will include models from Volkswagen brand, Audi, Lamborghini and Bentley.
The terminal, which is served by both road and rail links, will serve more than 300 dealers in the mid-Atlantic region. The terminal has direct rail links with the CSX and Norfolk Southern rail providers.
"Not only does this new port facility reinforce our commitment to the US market by adding to our existing footprint and the jobs that come with it, but it represents a smart business decision as well," said Anu Goel, executive vice president, Group After Sales & Services, VW Group of America. "This strategic location can help us with the goals of getting vehicles to our Mid-Atlantic dealers faster and with lower total cost."
"Today Tradepoint Atlantic is achieving another milestone moment in the re-birth of this iconic site and the continued growth of vehicle import logistics at the Port of Baltimore," said Kerry Doyle, managing director for Tradepoint Atlantic. "The combination of Volkswagen's state of the art staging and processing facility and our multi-modal connectivity to key east coast markets is the next step in realising the full and future potential of Tradepoint Atlantic. We celebrate and welcome Volkswagen to the port of Baltimore and look forward to many years of growth and continued success."
The port of Baltimore is the busiest vehicle handling port in the US and last year increased the number of vehicles handled by nearly 8,000 to reach a total of almost 858,000, the ninth year of growth for the port.
Read more about Baltimore and the rest of the North American vehicle handling ports in our latest review