Wallenius Wilhelmsen will reactivate the last three of the ro-ro vessels it placed in cold layup in the second quarter of last year when the Covid-19 pandemic hit finished vehicle volumes.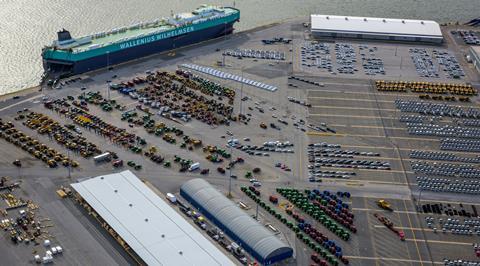 The Norwegian shipping and logistics provider said the vessels would be reactivated into service in Q3 of this year and replace capacity provided by short-term charters.
As reported earlier this year, Wallenius Wilhelmsen brought 12 of the 15 vessels placed in cold layup last spring, with nine vessels now in active service and a further three due to start services over the next couple of months.
The company said that customer demand, scarcity of capacity and rising rates in the time-charter market continued to make reactivation of vessels in layup a more cost-competitive option than chartering. The remaining vessel that was placed in cold layup before the coronavirus pandemic will be activated in November 2021, according to the company.
"As previously stated, we expect the overall industry supply-demand balance to improve in the mid-term," said Torbjørn Wist, acting CEO of Wallenius Wilhelmsen. "Given the time required to reactivate vessels, we believe that the time is right to reactivate the remaining vessels that have been laid up due to the pandemic. Predicting the potential market impact of the ongoing pandemic remains a challenge, however, we have the flexibility in our operations to adjust the fleet for any changing market conditions."
When the Covid-19 pandemic hit outbound logistics, the company put 15 vessels in cold layup. It also recycled one vessel in Q3 last year, and two in Q4. By May last year Wallenius Wilhelmsen said an aggregate 50% drop in volumes and throughput. In its annual report the company said it was able to ensure sufficient vessel capacity to move volumes as required, and at the same time optimise the sailings provided by consolidating port calls and routes.
As part of the shipping and logistics adjustments made last year by Wallenius Wilhelmsen, the main shipping brands of Eukor, Wallenius Wilhelmsen Ocean and Armacup were consolidated into one leadership team and a single division, called Shipping Services. Similarly, the company consolidated its land-based services, including port and terminal services for the main brands of Keen, Pacro, Pirt, Syngin, VSA, and Wallenius Wilhelmsen Solutions, into the division Logistics Services.
Wallenius Wilhelmsen controls 136 vessels overall, servicing 15 trade routes to six continents, together with a global inland distribution network, 65 processing centres, and nine marine terminals.
In February this year, The company revealed its Orcelle Wind concept for a primarily wind-powered pure car and truck carrier (PCTC) that the finished vehicle logistics provider expects to be in service by 2025.