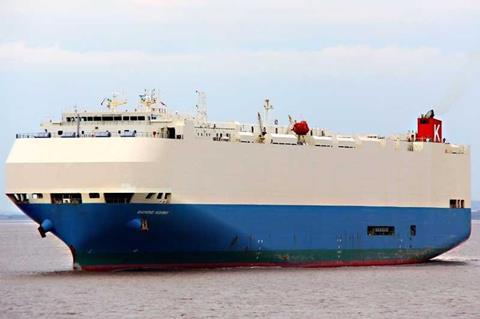 The K-Line car carrier Diamond Highway has been abandoned by crew in the South China Sea following a fire that broke out aboard the vessel on the June 15, according to the Philippine Coast Guard.
The Panamanian-flagged vessel was travelling between Singapore and the Philippine port of Batangas when it caught fire northwest of the Philippines in the Reed Bank area. All 25 crew members were forced to leave the ship and were later picked up by a bulk carrier en route to Thailand.
The coast guard said it received a distress alert from the Maritime Rescue Coordination Centre in Hong Kong that there was a distressed vessel in waters near Nalaut Island, Northern Palawan. It dispatched its patrol vessel BRP Cabra to the location, which has been fighting the fire on the carrier.
A spokesperson for K-Line said: "K-Line, the charterer of the vessel MV Diamond Highway, can confirm all crew members have disembarked the vessel and are unharmed. According to the shipowner, the vessel is currently under tow and the Philippines coast guard is monitoring the situation closely.".
This is the sixth vessel fire to be reported this year. Two Grimaldi con-ro vessels – Grande America and Grande Europa – were hit by fires in March and May respectively, with the former sinking off the coast of France with a cargo of more than 2,000 vehicles, both new and used, along with 365 containers and some general cargo. Grimaldi Group has urged the International Maritime Organisation (IMO) to institute mandatory certification for the filling of containers with dangerous goods.
The APL container vessel Vancouver caught fire off the coast of Vietnam in February and the Hapag Lloyd vessel Yantian Express caught fire off the coast of Canada in January. Also in January this year a fierce fire aboard the Sincerity Ace, operated by Mitsui OSK Lines and carrying 3,500 Nissan vehicles, led to the death of five crew members, and severe damage to the vessel and cargo.