Grimaldi Group has called for more stringent controls and cargo regulations for vehicles and containers following two fires that broke out on its ro-ro vessel Grande Europa last week. The Italian ocean services provider said there needed to be more controls on car batteries, which often cause short-circuits on board vessels, as well as in port terminals.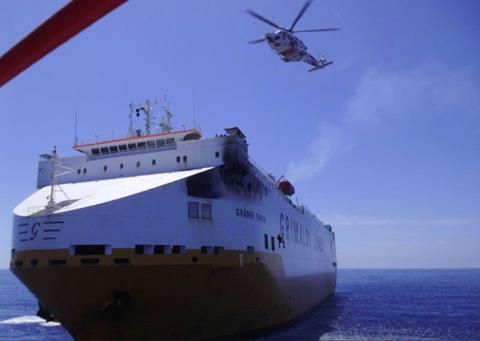 The latest incident follows the fire on its ro-ro container vessel Grande America in March, which sank the car carrier, and the extensive fire at its car terminal at the port of Savona in November last year.
According to a statement from Grimaldi, the first fire aboard the Grande Europa broke out on deck 3 at 00.45 on May 15 while the vessel was on route from the port of Salerno in Italy to the Spanish port of Valencia. It was carrying a cargo of almost 1,700 new passenger cars and 49 containers of food products. The crew extinguished that fire after 45 minutes. However, at 04.00 on the same morning, another fire was discovered on deck 8, which spread to deck 9. The crew again intervened with onboard fire extinguishing equipment but were later helped by a Spanish firefighting tug, which had been deployed following an alert made by the master of the vessel. Fifteen of the crew members were evacuated by a Spanish Coast Guard helicopter as a precaution and the fire was finally extinguished at 14.00 the following day, after which the vessel was towed to the port of Palma de Mallorca.
Grimaldi said that its preliminary investigations suggested that the two fires started from two new vehicles and then spread to other nearby units. The company is still assessing the full extent of the damage.
As well as stricter regulation on cargo, including batteries, Grimaldi said there needed to be a "total prohibition of the presence of personal effects in second-hand vehicles, embarked on ro-ro vessels".
There have been a number of fires aboard vehicle-carrying ro-ro vessels and container ships in recent months. As mentioned, Grimaldi's Grande America sank off the coast of France in March with a cargo of more than 2,000 vehicles, both new and used, along with 365 containers and some general cargo. That fire, which engulfed the vessel, started in one of the containers aboard. It was the third major fire on a container ship in 2019. The APL container vessel Vancouver caught fire off the coast of Vietnam in February and the Hapag Lloyd vessel Yantian Express caught fire off the coast of Canada in January.
Grimaldi Group has urged the International Maritime Organisation (IMO) to institute mandatory certification for the filling of containers with dangerous goods.
Also in January this year a fierce fire aboard the Sincerity Ace, operated by Mitsui OSK Lines and carrying 3,500 Nissan vehicles, led to the death of five crew members, and severe damage to the vessel and cargo.
In terms of port terminals, more than 1,000 vehicles were destroyed in November last year by a fire that swept through at Grimaldi's car terminal at the Italian port of Savona, following flooding, which was thought to have caused a vehicle battery to short-circuit.