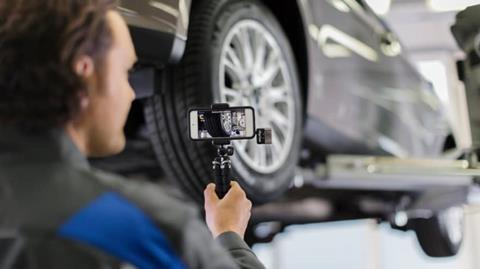 Cars and vans are now being thoroughly sanitised before being returned to customers in Europe after repairs and servicing, says Ford.
Though authorities have told many people to remain in their homes to counter Covid-19's spread, some drivers have to use their vehicles.
"We know there still are delivery drivers who need to transport everything from groceries to medical supplies, and customers who might be shopping or dropping off essential supplies to elderly relatives," said Massimo Pasanisi, sales director for Ford of Europe's customer services division.
In response, the company has introduced 'no touch' servicing as many of its workshops are still open, though some dealerships are closed during the coronavirus crisis.
For the service, drivers wear disposable gloves and vehicle keys are sanitised as well as the interior. The steering wheel, gear stick and driver's seat are all protected using disposable plastic covers that are removed when the vehicle is returned to the customer.
Beforehand, there is a video check so customers can see and approve the recommended work and cost.
Pasanisi described the 'no touch' service as providing reassurance to customers that they can have necessary vehicle work carried out with the peace of mind their vehicle is sanitised afterwards.
Initially introduced in Italy where coronavirus first struck most seriously in Europe, the service is now offered in Belgium, the Czech Republic, Denmark, Finland, France, Germany, Greece, Hungary, Netherlands, Norway, Poland, Portugal, Spain, Sweden and the UK. It will be extended further throughout Europe.
Elsewhere, in the US responses to the pandemic in the automotive sector include carmakers and their affiliated dealers embracing digital technology to ensure aftermarket services.