Ford intends to support dealers through its Professional Service Network, a proliferation of Quick Lane stores and extended parts retention.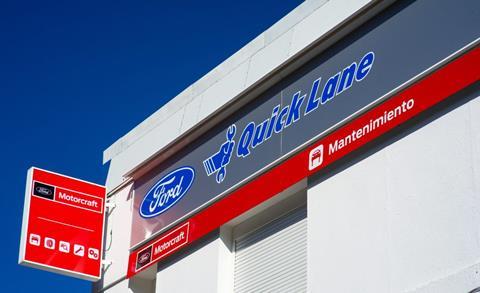 Frederiek Toney has spent much of his career in supply chain management, purchasing and logistics – earlier with American Honda and then with Caterpillar. He joined Ford in 2000 and held a number of service parts logistics and MP&L roles before taking over the Ford Customer Service Division in 2009. Although he already ran a global department when he led MP&L, his remit now is broad and deep across the total aftermarket business, both in terms of growing part sales and improving service, including through logistics and delivery.
"Service and growth are really connected. As we make parts and services available to customers around the world, it leads to a higher level of customer satisfaction," he says.
Toney manages a team across Ford's five regions, including North America, South America, Europe, the Middle East and Africa, and Asia Pacific. Though he has led this global team since becoming vice-president of FCSD and a Ford corporate officer, until recently he had also held the lead role for the North American region. With the appointment of Brett Wheatley to head up North America, Toney is now able to manage more from a global perspective (see box on p30 for regional management structure).
"In the past I was always scrambling. When I was out of the country, I worried about what was going on in the US that I was missing, and while I was here [in the US] I worried about not being where I needed to be internationally," he says. "Now, I have more time to be a truly global leader and to set the strategy."
Having this global overview is particularly important, as FCSD aims to apply global standards wherever possible. Ford's regions for aftersales and customer service clearly have wide variations in their footprint and scale. In North America, for example, there are more than 30 PDCs carrying close to 250,000 part numbers. In the Middle East and Africa, meanwhile, Ford has a depot in Dubai, another in South Africa, but nothing in between.
Despite such variations, Toney prefers to implement global programmes. For example, the carmaker continues to roll out a suite of SAP systems that will eventually work across all regions. "We have also installed a purchasing system all around the world. As we do these things, information is replacing dollars and allowing us to establish more standards and processes, and hence become leaner," says Toney.
Looking to new customers
Ford is likewise taking a global approach to its plans to expand service and sales beyond traditional supply to dealers, including to customers who do not yet drive a Ford. The company's Quick Lane stores, for example, have grown to around 800 in the US and more than 300 in international markets (including some under different brand names). The plan is to increase this number exponentially.
Ford's global standards apply equally to distant locations in Dubai and South Africa as they do at its 30 PDCs in North America
"In the next few years, we are looking to triple or quadruple the number of Quick Lanes, or similar concepts, that we have globally," he says. "We have a plan for every market to either start them or to increase them."
Another pillar of Ford's approach to expand the company's parts and service base is what it has started to call its 'Professional Service Network'. This group represents dealers with which FCSD will work to help build customers among repair shops, including offering special benefits when they buy Ford, Motorcraft or the upcoming 'all-makes' brand. Toney points out that there are more than 500,000 such independent shops around the world, among which Ford currently does little business. It is often to these outlets that Ford loses service business after a vehicle runs out of warranty, or when it is more than three years old.
A major part of FCSD's multipronged strategy for increasing customers is extending parts retention across its global inventory. In 2012, the company set out to extend the average time that it holds genuine parts for a model from seven years – the average length of a model programme – to up to 10-15 years. According to Toney, 2015 was the first year that the parts retention level on dealer shelves increased, and it will move up gradually over the coming years. The increase has major inventory holding and warehouse implications, but Toney sees it as a critical investment.
"You can't serve an 11-year old vehicle if you don't have the parts for it on the shelf," he says.
Ford Customer Service Division global management team
President, FCSD and global lead: Frederiek Toney
Customer service operation executive director,
North America: Brett Wheatley
Customer service operation directors:
Europe: John Cooper
Asia Pacific: Nigel Brackenbury
South America: Antonio Taranto
Middle East and Africa: George Goddu
FCSD is also taking a more calibrated approach to its parts offering, since selling factory-grade parts doesn't always make sense for older vehicles. Ford already sells a wider catalogue of parts through Motorcraft, while this year it will use the brand to launch a new, high-quality parts specification at a lower cost than genuine parts, and aimed specifically for cars that are five years or older.
"It's common sense. The consumer is not interested in a part that has durability longer than the life of the vehicle," says Toney. "We want to match the customer's needs and deliver on their terms, just as we are also trying to do with the expansion of Quick Lanes."
Turning up the frequency
Toney maintains that this attempt to capture more customers and repair shops for older vehicles is not solely a question of part price. Though the wider catalogue of parts will be competitive, he is adamant that Ford-branded parts "will never be cheap". Rather, the Professional Service Network will be based around benefits, including inventory and delivery reliability, that dealers and independent repair shops receive when buying Ford parts.
Expanding these business areas will require a close collaboration with dealerships on everything from sales and pricing to logistics, particularly since most garages will buy parts through dealers acting as wholesalers. "The independents will get benefits and rewards for buying and applying our parts to vehicles, whether that is Motorcraft, Ford blue box parts, or the 'all makes' brand we will release this year," he says.
As these smaller garages have little inventory space, but a high turnover of parts, they will require particularly frequent logistics services. "We must ensure that we call on the dealer frequently and create a strong logistics infrastructure between our sales, our dealers and our Ford authorised distributors to penetrate the market with the right level of services, mainly around the number of times we deliver throughout the day," says Toney.
However, he admits that most OEMs are not set up to deliver multiple times per day to dealers, let alone to smaller shops. "Instead, we really need the dealers to have or to develop that logistics capability, with our support," he says.
Today, Ford's network is based on dependability of delivery more than outright frequency. Within the US, for example, Ford offers a 98% service fill rate, with a guarantee to dealers that ordered parts will arrive within 30 minutes of promised delivery times, which Toney calls a "no excuses target" regardless of weather or conditions. Currently, Ford's fastest delivery is a next-day, overnight service that reaches dealers in the morning. Toney does not dismiss the idea that, in the near future, Ford may need to increase its delivery rate in major urban areas, but he suggests that OEMs couldn't maintain – profitably, at least – the number of depots needed to cover a large network with multiple deliveries per day.
Rather, FCSD is working on improving inventory availability to dealers so that they can then offer delivery to smaller shops, which some are already doing.
"Where multiple delivery is happening right now, it is through dealers and distributors," says Toney. "We have to create a heat map of our markets and target where somebody in the market has the capability to provide that level of delivery service. Some of this is still to come in the future as part of increasing our competitiveness and relationship with independent repair shops. We see dealers as having a big role to play, with our strong support."
The nature of this support from Ford can be quite wide sweeping for its range of customers, says Toney, from arranging the inventory stored by dealers, to providing the vans needed for local delivery. But the relationship must be collaborative. For example, FCSD will work with its dealer advisory board, which it has in all of its markets, to determine which locations to add as wholesalers and shipment points to service repair shops.
"Many of our strategies are informed by what we hear from our dealers. In looking to increase service and delivery on this scale, we can't do it alone," he says.
Ford part 1: Always looking ahead
1

2

Currently reading

Ford part 2: Global strategies

3

4