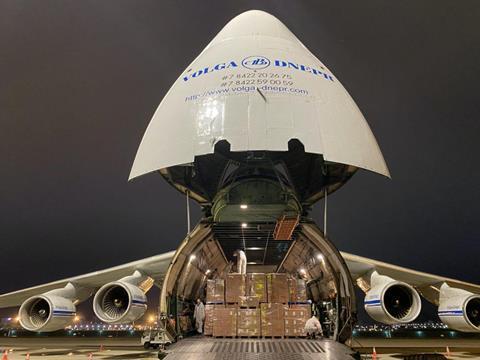 Global transport and logistics service provider Geodis has delivered masks to France to help combat Covid-19.
The French government commissioned the company to organise the emergency supply of millions of masks from China to France. Geodis is planning 16 flights over the coming weeks, with the schedule being extended into May if necessary.
The first flight from Shenzhen airport in China containing 8.5m masks arrived at Paris-Vatry airport on Monday, March 30. A second flight carrying 13m masks was scheduled to arrive later in the week.
For an operation which Geodis says was mounted in record time, the Paris-based company chartered two Antonov 124 cargo aircraft, which will operate in rotation between France and China. The Antonov is specially designed to transport goods in large quantities.
The French government expects the air bridge will contribute to the delivery of one billion masks to France over the next 14 weeks.
Geodis' standard services to the automotive industry include warehousing, pick and pack, semi and complete kit knockdown (SKD and CKD), sub-assembly, line-feed operations and door-to-door transport.
The company is located in 67 countries, operates in 120, and has 41,000-plus employees worldwide with more than 1,700 in China. It also specialises in serving the retail, fast-moving consumer goods (FMCG), high technology, industrial, aerospace and defence sectors.