[Updated October 30] Škoda Auto has a new 16,000 sq.m facility in Pune, India that it will use to pack complete knockdown (CKD) kits of its Kushaq and Slavia models for export to Vietnam. There, the CKD kits will be welded, painted and assembled at a production line currently being built in Quãng Ninh province and expected to open in the first half of 2024.
The CKD kits will be shipped from India via the port of Mumbai and imported in Vietnam through the port of Haiphong.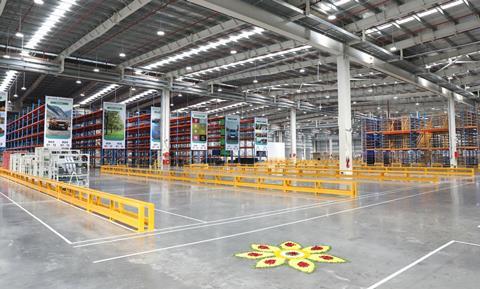 "With the opening of the new Parts Expedition Centre, we are paving the way for exporting CKD units from India to Vietnam," said Andreas Dick, head of production and logistics at Škoda Auto. "This represents a crucial step in effectively leveraging the synergies between these strategically important markets. As we gear up to export our products to additional emerging markets, the Parts Expedition Centre may also serve as a logistics hub for the Asean region."
Škoda began selling vehicles in Vietnam in September this year, starting with the Karoq and Kodiaq models, which are exported there from Europe. CKD exports from India will begin with the Kushaq next year, followed by the Slavia.
Together with its local partner, TC Group, Škoda plans to gradually increase the production volume. The carmaker said it will reach its peak after 2030 with 27 000 units assembled annually. TC Group will also be responsible for distribution of finished vehicles from the plant in Vietnam.
Škoda said it is also considering selling the Superb and Octavia models on the Vietnamese market in the near future.
This year Škoda's division in India – Škoda Auto Volkswagen India – exported its 600,000th vehicle. Its production facility is also located in Pune.
"The establishment of the Parts Expedition Centre represents a strategic advancement in our export capabilities," said Piyush Arora, managing director and CEO of the Indian division. "This facility combines modern infrastructure and sustainability, allowing us to cater more effectively to emerging markets."
Earlier this month Škoda also announced it would be start local assembly of Kodiaq, Kamiq, Karoq and Octavia in Kazakhstan in early 2024. The carmaker had operated in Kazakhstan between 2005 and 2021.
Škoda will send kits from Mladá Boleslav and Kvasiny to Kazakhstan for assembly, which will be carried out by its partner in the project, Allur Company.