Despite a tough 2020, General Motors is bouncing back to beat the industry sales average thanks to a dedicated workforce, robust processes and some smart outbound logistics technology. Marcus Williams reports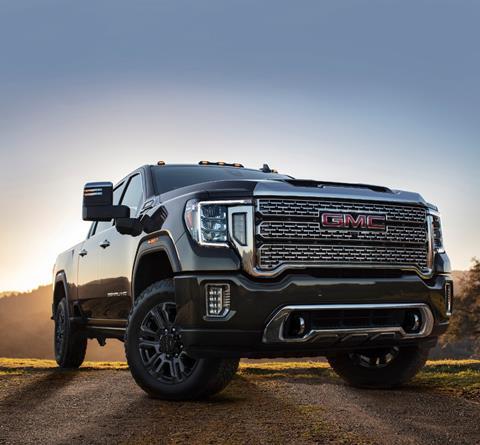 The coronavirus pandemic meant 2020 was a tough year for everyone in the automotive sector. GM was no exception. While the carmaker's sales for the calendar year reached 2.5m units, total deliveries were down 12% and retail deliveries down 6% for the year. However, toward the end of 2020 retail sales recovered to pre-pandemic levels. According to the carmaker's executive vice-president, Steve Carlisle, that was down to the efforts made by GM's workforce. They kept launches on track and each other safe.
Thanks to those efforts GM reported a healthy rebound in sales for the last quarter of 2020, with total vehicle sales up 5% year-on-year, to more than 771,000. Fleet deliveries have not recovered but retail sales are building on a quarter that was up 12%, the best fourth quarter since 2007, according to the company.
Carlisle specified that the result was down to the teamwork of manufacturing and supply chain teams, as well as GM's dealers. But it was also down to the carmaker's prescient adoption of outbound logistics software. That software afforded it much better visibility in the delivery of its vehicles during the crisis.
"We're grateful to our manufacturing and supply chain teams, and dealers, who have navigated a challenging environment to continue to meet demand," said GM's financial spokesperson, David Barnas. "It's to their credit we've continued to meet customer demand despite very tight inventory. Dealers have sold deep into [those] inventories, leveraging what was on their lots and working with other dealer partners to trade vehicle inventory and get their customers what they need[ed]."
GM US deliveries in Q4
Buick 44,188 (-10%)
Cadillac 42,909 (+5%)
Chevrolet 522,136 (+4.6%)
GMC 162,090 (+10.4%)
Total 771,323 (+4.8%)
GM deliveries in 2020
Buick 162,741 (-21%)
Cadillac 129,495 (-17.1%)
Chevrolet 1,739,792 (-11.2%)
GMC 514,311 (-8.8%)
Total 2,547,339 (-11.8%)
Turnover at the dealers has been increasing, with inventory shifting in days. Some dealers have even reported selling the most sought-after products, including pick-up trucks and full-size SUVs, off the back of the car carriers before they were unloaded.
GM's success in the fourth quarter was almost exclusively built on sales of those larger vehicles. While Buick saw a year-on-year quarterly sales drop, the Cadillac, Chevrolet and GMC brands all saw quarterly gains (see table). The GMC Sierra had its best fourth-quarter and full-year retail and total sales ever, according to the company, with total deliveries up 14% in the quarter and 9% for the year. GMC retail deliveries were up 14% in Q4, with five models up by double digits, including the Yukon and Yukon XL (+41%), Canyon (+42%), Sierra (+14%) and Acadia (+26%).
Technology transformation
After a year in which production, logistics and sales were all disrupted, securing capacity and delivering vehicles almost as quickly as they were being sold off the dealer lots was only possible because of a robust finished vehicle logistics organisation. Underpinning that was the timely investment GM has made into outbound logistics tracking software.
"Over the last 24 months, GM's finished vehicle logistics organisation has undergone a technology transformation, significantly bolstering its logistics platform with advanced supply chain software," adds Barnas. "[The technology] improves end-to-end vehicle shipping, reduces complexity and costs, and enhances quality control of vehicle locations shipped across truck, rail and ocean to GM customers globally."
GM has been using geofencing technology coupled with on-board asset telematics to track shipments of finished vehicles and obtain real-time information on location and contents. Combining those technologies has enabled the carmaker to address logistics issues, including better truck utilisation, accurate vehicle location and ETAs, backed up with manual follow-up calls. It has been working with a number of technology suppliers, including Freight Verify, which provides real-time transport tracking tools.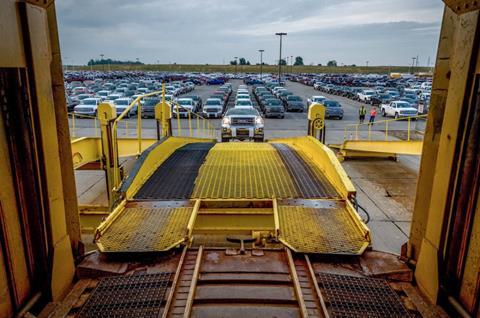 Using the software, logistics operatives and customers can search individual cars or batches of vehicles to verify information such as status and location, and whether the shipment is in process, behind schedule or on hold. The software also sends out notifications when a vehicle has arrived at its destination. The updates are summarised in key performance dashboards.
That technology is estimated to save GM about $9m each year and is currently being rolled out in North America and on ocean shipments globally. It will also soon debut in South America on domestic moves. Furthermore, GM's logistics teams are now using similar technology to track part shipments into plants.
It was this technology that enabled GM to react quickly to the disruption thrown up by the Covid-19 pandemic.
"Upon the restart of production in May 2020 and in close coordination with the GM sales and marketing teams, GM's finished vehicle logistics organisation executed measures above and beyond normal shipping actions to refill dealer lots quickly," says Barnas.
Those measures included transporting light-duty pick-ups by road instead of rail direct from Fort Wayne Assembly to dealers in Florida and Texas, which were two regional markets that had low inventories but high sales trends. That modal shift saved two weeks of transit time. It also secured additional haulage capacity to ensure backlogs did not build up.
GM moved thousands of reconsigned vehicles across the network from rental companies and GM Fleet to retail dealers. In addition, it increased collaboration with its rail carriers and road haulage companies to ensure the highest selling vehicles were moved first.
Online vehicle shopping
The coronavirus accelerated the adoption of digital tools in the sales and delivery of vehicles. Carmakers, including Audi, Ford and VW, turned to new sales and service strategies, including digital sales tools for purchases, and personal delivery and pick-up services. GM was somewhat ahead of the curve having launched its online vehicle shopping tool, Shop.Click.Drive, in 2013.
The Shop.Click.Drive programme allows buyers to search for a Buick, Cadillac, Chevrolet or GMC vehicle online through the carmaker's website, pick their preferred trim and accessories and choose from various extended warranties. The customer is then put in touch with the dealership selling the vehicle and they can exchange their payment information and schedule the delivery of the car to their door.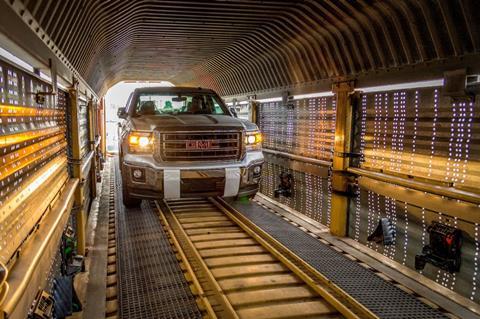 The pandemic has accelerated a more widespread use of the tool. "GM and our dealers are committed to meeting our customers where they are and serve their changing needs, and we are continuing to optimise the tool with lessons learned through increased use," says Barnas.
Compared to pre-Covid engagement, the percentage of customers who completed online buying processes nearly tripled, according to the company. GM expects there to be a sustained increase in the use of the online vehicle shopping. Using the Shop.Click.Drive tool can shorten the vehicle buying process, allowing customers to complete their entire transaction virtually, or to start or finish it online and continue in person.
"Shop.Click.Drive has dealer inventories and GM incentives built in [so] the customer is getting current information about what a dealership has available and can review penny-accurate pricing all virtually if they like," says GM.
Full size for the future
Looking ahead, GM is keen to build on the success it has had delivering pick-up trucks and larger SUVs, including those coming out of the Arlington assembly plant in Texas following an $20m investment made in 2019 to launch full-size SUVs. The company is looking forward to a full year of production of the latest Cadillac Escalade, GMC Yukon, Chevrolet Tahoe and Suburban. It has also announced plans to build full-size pickups at the Oshawa plant in Canada, starting in early 2022.
"Chevrolet, GMC and Cadillac set the bar high for these products in terms of technology, refinement and utility, and sales are exceeding our expectations," said Carlisle in December. "We launched them on time despite the pandemic, and the team in Arlington is working around the clock to meet demand. We have quickly recaptured all the short-term gains our competitors made as we transitioned to the all-new models."
GM is moving to almost exclusively delivering bigger and heavier vehicles, and moving away from the sedan market that is unpopular in the US. Light vehicle sales in the US are forecast to return to 17m by 2023, though low-slung cars will represent less than 20% of that as light truck, SUV and crossover sales continue to grow, according to AutoForecast Solutions.
"Extraordinary teamwork has set up everyone to succeed in 2021 as the economy continues to recover and we further ramp up truck and SUV production," said Carlisle.
The only potential problem for GM in meeting that demand, as with other carmakers in North America, is the current volatility affecting inbound supply and production. Employee absenteeism is still a workforce issue as the coronavirus pandemic continues to take its toll in the US, though the rollout of the vaccine promises to eventually control this. However, the shortage in the supply of semiconductors is currently leading to temporary plant closures globally. Added to this, the rebound in demand for goods following the first wave of lockdowns and the better than expected resurgence in automotive production has led to a lack of capacity in shipping containers. If GM can navigate these troubled waters it will make good on its forecast for success.
What also helped GM achieve a robust sales performance for Q4 was the implementation of "robust and multi-layered" safety protocols across its facilities under the umbrella of its 'Clean Program', which set out guidelines established by the Centers for Disease Control and Prevention (CDC). As part of the programme, GM employees and dealers used cleansers approved by the Environmental Protection Agency (EPA) in connection with the cleaning of their facilities, including high-traffic areas, and the cleaning of new, used and serviced customer vehicles.
"We're grateful to our manufacturing and supply chain teams and dealers who have navigated a challenging environment to continue to meet demand," said GM's spokesperson. "It's to their credit we've continued to meet customer demand despite very tight inventory."