German finished vehicle carrier Hödlmayr has taken over the contract to ship Dacia volumes from parent company Renault's plant in Pitesti, Romania, to dealers in Germany.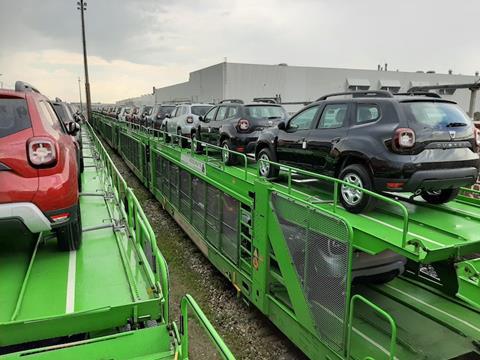 Hödlmayr's division in Romania, Hödlmayr Logistics Romania, will be moving 22,000 vehicles per year by road and rail. By road, the company will be transporting around 120 loads a week, with seven vehicles per trailer. By rail, Hödlmayr will be moving between 250 and 300 vehicles per blocktrain.
"We have again been able to capture an order owing to our holistic transport concept," said Tamer Sen, CEO of Hödlmayr Logistics Romania. "In addition, our efficiency and reliability sets us apart in the branch. This image and the related trust that we receive are the result of the hard work and ongoing investments in our core vehicle transport logistics business area, which we have built up successfully over the past 17 years."
Hödlmayr Logistics Romania is the second-largest vehicle logistics company in the country, with a 200-strong workforce. The company has around 100 of its own car transporters, while the Hödlmayr Group operates more than 800. Its Bascov site, around 7km from the Pitesti plant, also offers storage capacity for around 5,000 vehicles.
Dacia is a division of Renault and part of the Renault-Nissan-Mitsubishi Alliance. The Dacia brand posted a new sales record in Europe in 2018 with more than 511,600 vehicles registered (+10.3%). The increase was due to the performance of the Sandero and also the New Duster launched at the beginning of the year, according to Renault