BMW has signed an agreement with a contract manufacturer in Vietnam for local assembly of its BMW 3 and 5 Series sedans, as well as the BMW X3 and X5 SUVs.
Truong Hai Auto (Thaco) will assemble the vehicles from semi-knockdown (SKD) kits at its Chu Lai assembly plant in Quang Nam province. The containerised kits are being imported from BMW's global production network.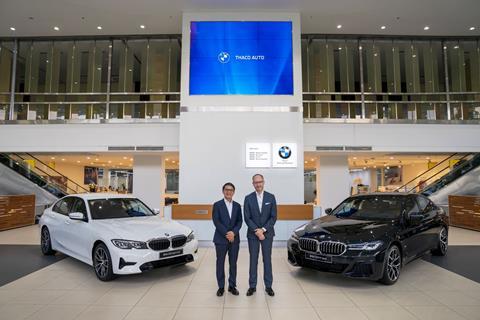 BMW re-entered the market in Vietnam five years ago and since then has be importing finished vehicles from different regions. Over that time Thaco has been working as the carmaker's official importer in the country.
Those finished vehicle imports have also included containers. In 2019, CFR Rinkens won a contract to ship vehicles in containers from Europe to Vietnam. Container shipments to Vietnam are more regular, while ro-ro deliveries are subject to transhipment points and irregular schedules (read more).
Finished versions of the BMW 3 and 5 Series sedans were also being delivered to Vietnam from local assembly in Malaysia.
Lars Nielsen, managing director, BMW Group Asia, said Thaco's commitment to the brand had been proven and would help support long-term growth potential in Vietnam with local production.
Thaco has more than 20 years' experience manufacturing and trading passenger and commercial vehicles for a range of international brands, according to its chairman, Trần Bá Dương. Thaco manages imports to Vietnam for Kia, Mazda, Mitsubishi, Peugeot and Mitsubishi Foton
"We are excited and honoured to have the opportunity to now include BMW vehicles as part of our manufacturing business in Chu Lai, Quang Nam province and are committed to providing high-quality vehicles that BMW customers expect from the brand."