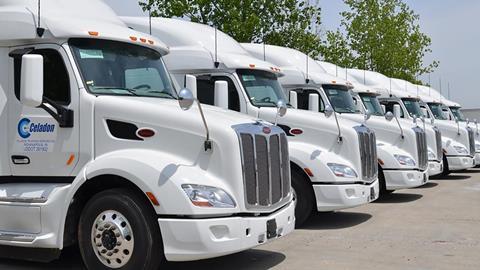 North American trucking and logistics provider Celadon Group has entered into Chapter 11 bankruptcy proceedings and has shut down its operations, which involve 25 affiliates. The only branch still operating is Taylor Express in North Carolina, which continues to provide transport services for tyre makers. With regard to that operation Celadon said it was exploring "a going concern sale of its operations", according to a statement from the company.
As of December 9, when it shut down operations, Celadon was operating around 3,300 trucks and 10,000 trailers. The company provided automotive parts transport, brokerage, warehousing and distribution, truckload freight and intermodal fleet management
It employed around 4,000 people and is the largest truckload carrier in the US to file for bankruptcy.
"We have diligently explored all possible options to restructure Celadon and keep business operations ongoing, however, a number of legacy and market headwinds made this impossible to achieve," said Paul Svindland, CEO of Celadon.
According to Svindland, Celadon was dealing with significant costs associated with a multi-year investigation into the actions of former management, which included financial mismanagement and a complex accounting scandal. The Securities and Exchange Commission has filed civil complaint and criminal charges against former president William Meek and former chief financial officer, Bobby Peavler, who were indicted on December 5 for their alleged role in a complex securities and accounting scheme.
"When combined with the enormous challenges in the industry, and our significant debt obligations, Celadon was unable to address our significant liquidity constraints through asset sales or other restructuring strategies," he said.
Celadon had a number of prominent automotive customers, including Honda, and carried a concentration of automotive freight between Laredo on the US-Mexican border and the US Midwest.
Among its contracts it also provided trucking and shuttle services at the Mercedes-Benz Vance plant in Alabama, moving parts from the nearby Mercedes-Benz Logistics Center.