AP Moller-Maersk is pushing forward its development of integrated logistics services with the opening of a 14,000 sq.m warehouse for handling batteries for electric cars (EVs) in Teplice, in the north of the Czech Republic.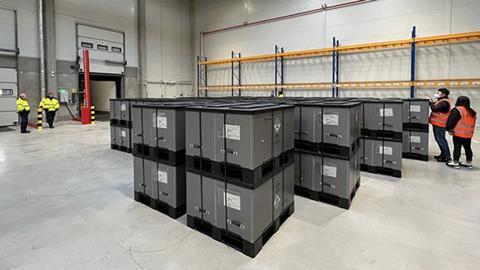 The facility will provide services that include repacking, in-depth quality controls and charging of the batteries, as well as other value-added services for automotive customers.
As EV batteries are designated a Class 9 dangerous good, the warehouse is equipped with a range of safety features, including thermal monitoring in candles and in-rack sprinklers. The building is divided into four independent, fire-resistant sections.
Maersk said the facility would support carmakers in central Europe and was within a short distance by road to a number of carmakers in the Czech Republic and eastern and southern Germany.
Major carmakers in the vicinity include Toyota in Kolín and Hyundai in Mlada Boleslav.
In terms of inbound shipments to the warehouse, Maersk said there were rail routes from the ports of Hamburg, Bremerhaven (Germany), Rotterdam (Netherlands), Koper (Slovenia) and Rijeka (Croatia).
The company is building a new deep-water terminal at Rijeka, which is due to open in 2025. Maersk said it would increase handling capacity in the eastern Adriatic and significantly reduce the transit times and CO2 emissions for the transport of goods from Asia to Europe, notably Croatia, the Czech Republic and neighbouring countries.
"We are an experienced and trusted partner in transportation and logistics for automotive customers," said Leah Offutt, managing director of Maersk Central South Europe. "Our processes are widely audited and approved by carmakers and OEMs. We are thrilled that we are taking the next step now with this special warehouse, offering dedicated services for electric car batteries right in the heart of the Czech and German car maker clusters."
Back in 2019 Maersk drew up a new strategy to develop inland logistics services, with a focus on automotive logistics and chemicals. Traditionally a provider of maritime services, the company has made a number of investments since then in line with its plans to grow the percentage of revenue it derives from inland integrated logistics services, including in Mexico.