BMW has enhanced material planning and control systems for its Spartanburg plant across JIS, JIT and global flows, in close collaboration with Munich and partners in North America.
It wasn't long ago that material planners for automotive supply chains would manage transport flows across hundreds if not thousands of spreadsheets, manually checking parts deliveries against inventory levels displayed across any variety of different systems between plants, suppliers and logistics providers.
Today, the material and transport control offices at BMW Manufacturing, the company's plant in Spartanburg, South Carolina, look more like a NASA control room. Large monitors show maps and dashboards, including those that track material from local suppliers delivering just-in-time and just-in-sequence. Others show status and inventory levels of materials moving across North America, ships at sea and global airports. There are dashboards tracking critical suppliers, flagging potential issues that could impact delivery and eventually production.
Behind the dashboards are a constant, invisible exchange of APIs ensuring that any disparity in systems isn't visible here. Material analysts, who have screen and mobile access to these systems, can make quick decisions based on the alerts. In some cases, they follow recommendations and optimisations offered by analytics and AI-based algorithms.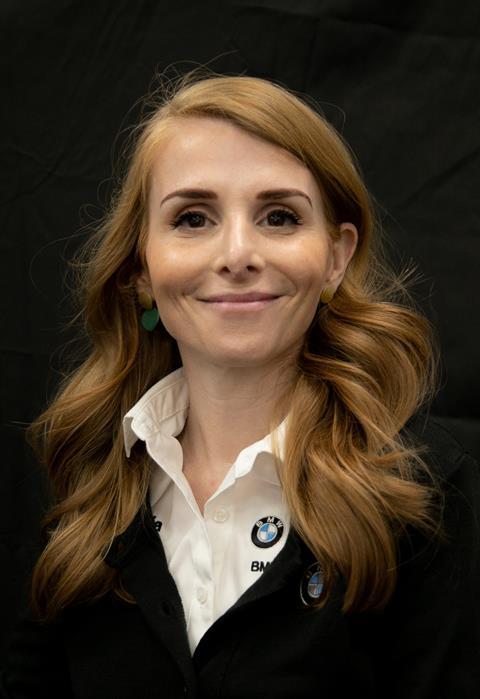 "These tools help us to see what inventory we have and what we will have and help us to plan ahead and change the production programme," says Julia Fuchs, head of material, transport control and delivery assurance for BMW Manufacturing. She is responsible for managing the Spartanburg plant's supply chain from suppliers in North America, delivery from ports, as well as consolidating parts for export.
"We have implemented many new tools over the past three years since we were in crisis management, and we increasingly use data analytics to make the right decisions," says Julia Fuchs.
The scale of parts and material moving in and out of BMW's largest global plant warrants an equally comprehensive data and visibility set-up to manage it. Razor-sharp material and inventory control is also needed to maintain BMW's customer-orientated sales and production process (KOVP), which allows for customer specifications and changes. The cut-off date for changes from Spartanburg is 10 days before the vehicle enters production, which is a few days longer than in Europe because of longer lead times for wire harness from Mexico, which relies on sub-suppliers in central and South America, according to Oliver Bilstein, vice-president of production control, logistics and material control at BMW Manufacturing Co.

Planning for every part and sequence
For just-in-sequence suppliers, BMW sends out an updated 10-day bill-of-materials (BOM) order package every day across the supply base based on planned production. The BOM establishes a 10-day flow to manage orders, supplier inventory, delivery and manufacturing schedules. Every component is classed with a part family, which is how BMW segregates components from each module. And each part family is tracked according to the amount that the plant consumes every hour, which is based on the takt time of the plant's two assembly halls.
The plant has around 200 JIS deliveries, however there are nuances in the call-offs, inventory levels and handling at the plant. For one type of axle supply, for example, BMW might send a signal when the body leaves the stacker, giving the supplier four hours to build and deliver the part. However, variation in model types – for example, different accents and details specific to export markets – means another type of axle supply could follow a different frequency, with suppliers delivering from stock to BMW's dock, where it will then be sequenced in line with production.
"We have implemented many new tools over the past three years since we were in crisis management, and we increasingly use data analytics to make the right decisions."
-Julia Fuchs, BMW Manufacturing
BMW also tracks inventory at various stages of the production and delivery process. For JIS suppliers up to 30 miles (50km) away, for example, BMW typically holds around three hours of inventory at Spartanburg. The call off for a specific part on the assembly line will vary from three to eight hours before line-side delivery. The supplier then sends an ASN when a shipment leaves its plant, with the delivery translating into another hour or two of stock in the truck depending on how many parts fit in the truck. BMW also has a connection to the supplier to estimate the finished goods it has at its factory; on average, BMW expects to have around 18 hours of end-to-end coverage for sequenced parts.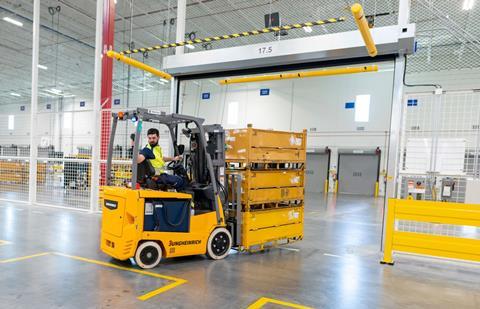 Just-in-time suppliers are up to 500 miles away from the plant. BMW does not assign JIT parts to specific vehicle orders but orders them in a bulk process: the plant consumes a part, and then it orders a part. Parts are stored as 'warehouses on wheels' in the plant yard in the trailers that drivers drop off, and then move straight to the dock door until call off. Each day, the plant brings in up to one day's worth of JIT parts. BMW tracks this inventory based on a target level, counting trailers in the yard as well as in transit.
"We have full transparency of the supply chain for JIS and JIT parts," says Julia Fuchs.
BMW wants to improve this visibility across all other global components. The team in Spartanburg is working with central logistics teams in Munich in the rollout of a new supply chain allocation (SCA) to manage common parts across all global plants, including a 'micromanagement' feature to monitor critical parts and prioritise deliveries to key plants. The SCA tool can also simulate the impact on production and inventory of shifting supply between factories, for example. A global tool provides further visibility on the status of selected critical suppliers across BMW, with a ranking system to indicate inventory status and delivery performance.
Powering the skills of material planners
With this growing input of data, BMW has been focused on training its material analysts to better use analytics and digital tools, including training in programmes like Power BI. Teams have focused specifically on dashboard applications, task automation, machine learning and AI, as well as working in agile processes, such as scrum methodology.
"We've created a team dedicated to data analytics and specialisation in AI, because you can't just treat this as a shared function in material control," says Julia Fuchs. "You have to learn daily and dedicate time to it."
"These new solutions and AI-driven algorithms are especially important for managing complexity in our planning and steering," says Oliver Bilstein. "It's an important way that we can stay lean, but still ensure resilience in our supply chain."
Hear more about BMW's logistics
Learn more about how BMW's logistics and supply chain at Automotive Logistics and Supply Chain Global, September 26-28 in Dearborn, Michigan. VP of logistics Oliver Bilstein will speak about the carmaker's transformation in Spartanburg, and its use of digitalisation to drive resilient and flexible logistics.
'Performing while transforming' BMW's logistics in Spartanburg: Special series
1

2

3

Currently reading

Material mission impossible: digital control of BMW's inbound logistics

4

5