The ongoing shortage in the supply of semiconductors to the automotive industry means that parts shortages are arresting production for Ford and Volvo this week.
Ford is having to curtail assembly at its US plants in Dearborn and Kansas City, as well as at Oakville in Canada. The disruption affects production of the Ford F-150 pick-up truck, the carmaker's best-selling vehicle in North America. It also means a cut in production of the Ford Edge and Lincoln Nautilus crossovers.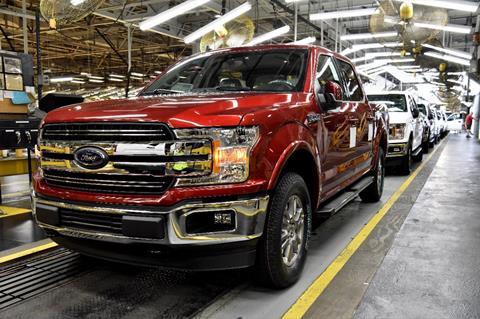 The crossover vehicle (CUV) segment in North America is suffering the most from the semiconductor shortage, with 48% of production affected as of June this year, according to industry analyst AutoForecast Solutions. Crossovers are defined as those SUVs that share a platform with a passenger car rather than a pickup truck. Meanwhile, around 16% of pick-up truck and large SUV production is also affected, which is hitting carmaker bottom lines quite hard as they are the highest profit vehicles.
In Europe, Volvo's car plant in Torslanda, Sweden, has had to close this week and into the next one (August 30-September 7) because of a combination of global semiconductor shortages and new Covid-19 outbreaks.
Volvo Cars reported global sales just short of 57,000 in July, down almost 9% on the same month last year because of the global shortage in semiconductors combined with a strong July in 2020 as dealers reopened after the first wave of the Covid pandemic.
Volkswagen has said that it expects a challenging third quarter because of supply bottlenecks caused by the semiconductor shortage, though it said it expected to increase deliveries for 2021.
Last week Toyota said it was scaling back production globally by 40% as a consequence of parts shortages caused by the spread of Covid-19 in South-East Asia, compounded by ongoing semiconductor shortages.