Stellantis is setting up a new twice-weekly shipping service with Suardíaz from the port of Vigo in Spain to the Queen Elizabeth II Eastham docks in the UK.
From June 2023, the service will bring sheet metal parts and components from Stellantis' suppliers based around the carmaker's plant in Vigo to its Ellesmere Port plant, which is 3.2km from the Merseyside docks.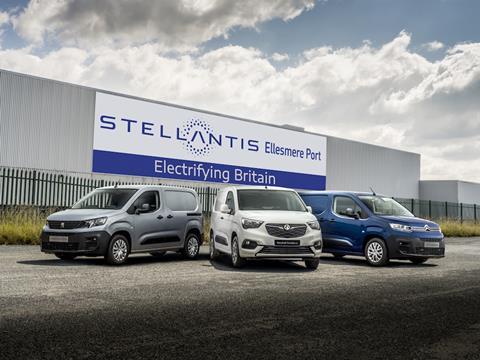 In 2023 both plants will be making the compact electric van that sells as the Vauxhall/Opel Combo Electric, Peugeot e-Partner and Citroën e-Berlingo. The Ellesmere Port plant will start production of the van in the Spring next year following a £100m ($121m) transformation.
Stellantis said the 50-hour maritime route is equivalent in time to the overland journey but will take an estimated 14,700 truck journeys off the road between Spain and the UK, saving around 17.5m km of road travel cutting annual carbon emissions by 30%. That ties in with Stellantis' strategy to reduce carbon emissions in the supply chain – Dare Forward 2030.
"We assume responsibility for the logistics connection between the Stellantis facilities in Vigo and Ellesmere Port, and we use maritime transport with an efficient and environmentally friendly solution," said Juan Riva, president of Suardíaz. Riva went on to say that the use of biofuels to power its vessels in the near future would help contribute to the supply chain sustainability that Stellantis was looking for.
Each Suardíaz vessel will be able to take 95 trucks of cargo comprising 47 part lines of sheet metal parts and components. The packaging used to deliver the parts is then taken back to Vigo on the return leg to be reused for further deliveries.
Terminal operator Peel Ports is providing a 3.8-hectacre site at the Queen Elizabeth II Eastham dock to process the freight. Together, Peel Ports and Suardíaz have invested £10m in recommissioning a berth at the dock and installing the necessary infrastructure for ro-ro deliveries.
"I'd like to thank our partners at Suardíaz and Peel Ports for their collaboration on this new maritime logistical supply route that will enable us to ensure increased efficiency of service to the plant whilst removing congestion and emissions from Europe's roads," said Paul Willcox, senior vice-president and UK country manager, Stellantis.