Toyota has been forced to extend production restrictions at plants around the world because of the parts shortages caused by the Covid lockdowns in Shanghai
China's zero-Covid policy and its restrictions on workers' movements is severely hampering throughput at the port of Shanghai, as well as hitting logistics inland. That has led to a dismal and unpredictable situation in terms of transit times for containerised shipments of parts out China, as recently outlined by Drewry Shipping Consultants.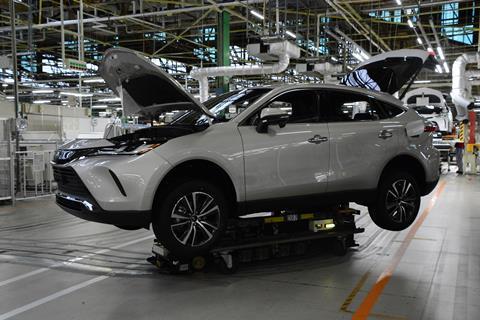 The ongoing congestion at the port of Shanghai (and at the airports), combined with the ongoing semiconductor supply shortages, meant Toyota had to suspend some assembly shifts at ten of its Japanese plants for May and June. That situation in now affecting global production. The carmaker said the supply problems would reduce global production by 50,000 units, resulting in a total of 800,000 units planned for June, with approximately 200,000 made in Japan and 600,000 overseas.
Toyota reported that its average global production plan from June through August is around 850,000 units per month and 9.7m units for fiscal year 2023.
"Although it is very difficult to estimate the current supply situation of parts due to the ongoing lockdown in Shanghai, and there is a possibility that the production plan may be lower, we will do our utmost to minimise the sudden decrease in production while closely examining the parts supply," said Toyota in a statement.
Another risk for OEMs and their transport providers outlined by Drewry is the backlash on the logistics infrastructure when Shanghai finally ends all lockdown restrictions and manufacturing returns to normal. Recalling the first Covid lockdown in 2020, Philip Damas, managing director of Drewry, told delegates at the recent ALSC Europe conference that when Shanghai port stopped for a few weeks at the beginning of Covid, it then surged with volumes on reopening. "At that point the transport system couldn't cope," he said. "It is either a demand or supply shock. Be prepared for a production catch up in Q3 and at that point there will be further pressure on available shipping capacity."