Grupo Antolin is automating the movement of interior components within its Aragusa factory in Spain as part of an Advanced Manufacturing 4.0 strategy.
The tier one components supplier is using a combination of autonomous mobile robots (AMRs) and collaborative robots (cobots) supplied by Omron. Controlled by fleet management software supplied by Keyland, the machines are replacing the manual movement of vehicle interiror components between the injection area and the assembly line.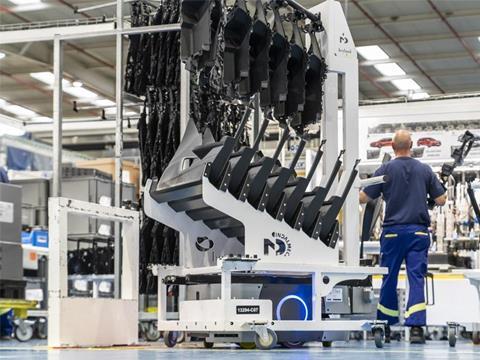 Grupo Antolin said the movement to automation improves workplace safety, increases efficiency and frees up employees to work on higher value production jobs.
"Until now, loading and transporting components from the injection area to the assembly area was an inefficient process that took up a lot of our teams time," said Jaime Ruiz Alonso, engineering manager at the Aragusa plant. "We wanted to improve this logistics process for manufacturing. Thanks to this project, we enrich our ecosystem to develop the manufacturing 4.0 strategy reducing low value activities and increasing safety at workplace level."
Grupo Antolin said that safety lasers enable the cobot to work at high speeds, with no need for physical fences, enabling operators and robots to work collaboratively and increasing productivity.
Omron's LD-250 AMR has a maximum payload of 250kg and navigates using vision systems that recognise the layout of the factory floor, without need for facility modification. The TM12 cobot is designed specifically for assembly, packaging, inspection and logistics applications. It has an integrated vision system that recognises colour, object and pattern of the parts handled.
Grupo Antolin said that Keyland's robot management software accommodated for any increase of the use of AMRs at the facility in the future.
"It was vital to select the right automation solution with integrated robotics, something that would be scalable and flexible, and [with] robots that could work safely in closer proximity with people in harmony," said Jesús Arce, director of technology and products at Keyland.