German OEM Volkswagen (VW) has opted to use the new Silk Road rail route to China to transport its prototype electric ID.R car – and all the ancillary equipment – for a motoring challenge in Tianmen.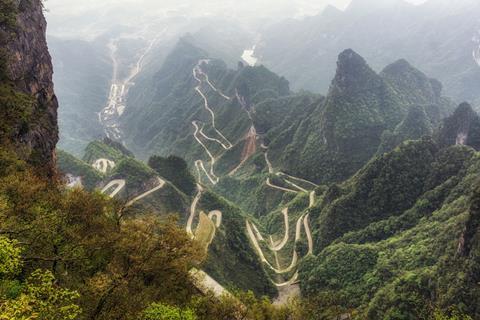 The journey, marking the first time in more than 50 years of Volkswagen Motorsport that the group's racing business has gone by train rather than aeroplane, is partly intended to show how environmentally friendly electric driving is.
Four containers containing the car, generator and support equipment are currently travelling from Hamburg to Chongqing by electric-powered freight train with the help of VW's partner Hellmann Worldwide Logistics. From there they are being transported by truck to the foot of Tianmen Mountain, Hunan province, central China.
VW's goal next month (September) is to drive the ID.R up the the mountain's ascending Tianmen Shan Big Gate Roadtop to prove an electric-powered car can go up what is regarded as one of the world's most dangerous, challenging highways with, 99 hairpin bends and a 45-degree incline, to reach 'Heaven's Gate', the meaning of 'Tianmen' in Chinese.
Uncharted territory
Talking about some of the challenges faced by the company in simply getting to the base of the mountain, Volkswagen Motorsport's logistics manager, Lutz Meyer, said: "China is indeed uncharted territory for us, from a logistics perspective. And transporting the material by rail is also a first for Volkswagen Motorsport.
"Sending the ID.R to Tianmen Mountain on the back of a train is the best solution for us. The fact that it will be travelling electrically is perfectly in line with our concept. This minimises the amount of time spent on roads. It is hardly possible to complete a journey like this with fewer emissions."
The 10,490-kilometre Hamburg-Chongqing railway line is electrified but for a section of around 300 kilometres in Kazakhstan.
Wolfsburg-headquartered Volkswagen claims it is saving about 85% on carbon dioxide emissions and 93% on sulphur dioxide's compared to travelling by air freight, motorsport's more conventional mode of transport for long distances.
"Although the journey goes through Germany, Poland, Belarus, Russia, Kazakhstan and China, the customs process is surprisingly simple: our containers leave Europe and receive their exit stamp in Poland, and are then given an entry stamp at the Chinese border," said Meyer.
"The freight will switch rail systems twice and in less than three weeks it will reach its destination. When you consider the 11,000-kilometre route and the extremely varied landscape, that is truly remarkable…[.] The railway is an extremely reliable transport solution."
On the question of security, he said: "The entire journey will be monitored and GPS ensures that we know where our containers are at all times. Data is transmitted to us at regular intervals, which allows us to know if any light has penetrated the container, as well as the temperature and humidity inside the container."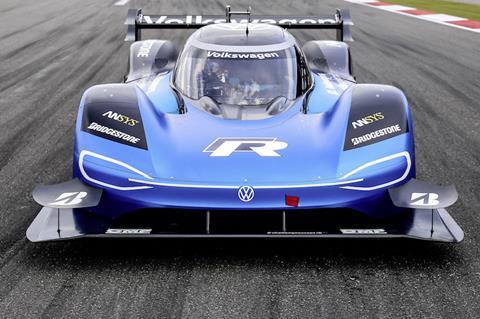 Global time travelling
After being transported by truck from Hanover, the four containers will start their rail journey at Hamburg, through Berlin and Warsaw (Poland), and switch to a different rail system in Brest (Belarus). From there they will journey through Moscow and Yekaterinburg (Russia), Iletsk (Kazakhstan) and on to the border station of Alashankou in China.
Once there, they return to the European rail system and continue their journey through Chengdu and on to Chongqing. The route crosses seven time zones and equals a quarter the way around the earth.
As ancillary equipment is being transported with the car, once on site the Volkswagen Motorsport team will be completely self-sufficient, with the glycerine-powered generator supplying their electricity as well as charging the ID.R. The company points out that non-toxic glycerine, a sugar alcohol, burns with virtually no harmful emissions or residues.
VW describes the fully-electric sports car as the pioneering ambassador of the its ID. family of electric vehicles
"We are using the ID.R programme to show how exciting and high-performance e-mobility can be," said Volkswagen Motorsport's director Sven Smeets, who praised its engineers for the good job they have done.
"However, they are not the only ones contributing to this project with surprising and clever solutions: our logistics experts are also repeatedly coming up with ground-breaking ideas," he added, referring specifically to the freight train journey on the new Silk Road.