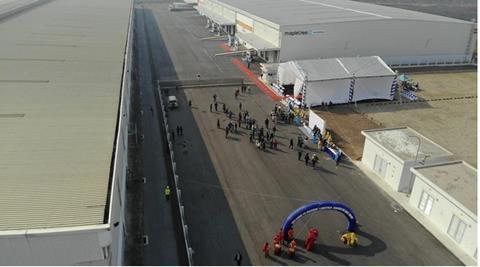 Maersk has officially opened an 11,000 sq.m logistics centre in northern Vietnam that will support growing business for automotive, electronics and retail in the country.
Located at the VSIP Industrial Park in Bac Ninh, around 25km from the capital Hanoi, the company said the facility features automated warehouse technology and was constructed by Mapletree Logistics.
"Maersk has a longstanding commitment to Vietnam and we are continuously reviewing our value proposition to ensure we offer competitive end-to-end solutions to fuel our Vietnamese customers' business ambitions," said Marco Civardi, managing director of Maersk Vietnam. "With our investment in this new logistics centre, we are proud to provide agile capacity and thus help facilitate the continuous trade growth and development of North Vietnam."
Maersk said that Vietnam had seen fast growth in the demand for logistics services compared to other Asian countries over that last five years. Year-to-date figures to November show that new passenger car sales in Vietnam were up almost 22%, with 205, 475 new vehicles sold, according to the Vietnam Automobile Manufacturers' Association (VAMA). Poor performance in other segments, including commercial vehicles brought the total vehicle sales figure rise down to 12% over the same period at just over 217,600
In 2018, the country was ranked the eighth biggest export/import country in Asia, and based on this growth rate, is expected to jump four places by 2023. North Vietnam, in particular, is seeing continuous growth in electronics, automotive and retail segments, according to Maersk.
In September, Maersk announced it was employing JDA Software's cloud-based technology to better manage warehouse management. At the time Maersk said that JDA Software's warehouse management system (WMS) would help its customers improve warehousing processes and efficiency while lowering inventory costs. The company said the WMS would also help Maersk customers balance on-time delivery with the need for cost-effective distribution. The JDA Warehouse Management tools are first being deployed in Europe and the US but global rollout is to follow.