The Chinese electric vehicle manufacturer sees opportunities to improve inventory management and parts handling in its supply chain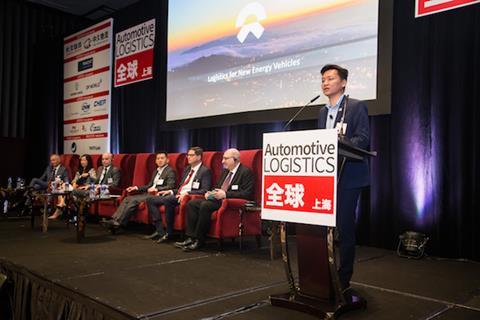 As the structure of the passenger vehicle transforms, so will the supply chain and logistics supporting its manufacture and distribution. On the one hand, the growth in new energy vehicles (NEVs), including electric vehicles and hybrids, means fewer part numbers being delivered inbound, on the other hand those parts – notably the battery – have critical safety requirements and others are often of high value because of their technological sophistication.
The trend toward greater customisation within the vehicle is also a logistics challenge as vehicle configurations become more complex and complicate the traditional fixed bill of materials.
At the same time, NEV makers are not adhering to the automotive industry's traditional push model of production and are instead operating on a build-to-order model, which also has implications for the logistics industry. Compared with the traditional approach to building cars, there is more volatility when making to order and it is harder to predict what parts will be needed, and in what volumes.
"Automotive logistics has to accommodate the specific demands of the NEV business and we need to adapt to the build-to-order mode," said Marco Wang, senior logistics director, at electric vehicle start-up, Nio, at the recent Automotive Logistics Global Shanghai conference (pictured).
What is more, customers are more often using mobile apps to place orders for products and services, something that is changing the business model of many industries, including automotive.
Nio in numbers
2014: company founded, with HQ in Shanghai
5 products: ES8, ES6 (in test phase), EVE concept, EP9, FE racing car
15,337 units of the Nio ES8 SUV delivered since June 2018 to 250 cities, meaning Nio ranks in the top three NEV makers by volume
4 production facilities:
Hefei – Vehicle assembly (under contract at JAC factory)
Changshu – battery manufacturing
Nanjing – e-powertrain manufacturing
Kunshan – inverter manufacturing
Making cars to order means lower inventory levels and less risk, according to Wang, though he said that was balanced with a level of "safety inventory" to cope with the "dynamic" pattern of orders the company received from its digital-savvy customer base.
"You can have less inventory but from a cost, lead time and transport perspective you are managed by your suppliers," said Wang. "We try to optimise our inventory level as much as we can, firstly by managing parts supply ex-works.
As indicated, there is also a higher value to the parts being used in the latest connected cars, and that also has an impact on inventory management. Maintaining the same level of inventory with the sort of high-value parts required of digitally connected and soon-to-be autonomous vehicles requires a higher working capital.
Wang confirmed that artificial intelligence parts, such as the printed circuit board and other electronic components, are very high value. "For those parts, how we handle them at an inventory level is very challenging," he said.
Belt and Road offers greater speed
Nio sources a lot of parts from suppliers in Europe, and Wang said the development of express rail services between there and China, as part of the trade and infrastructure programme known as the Belt and Road Initiative, was providing a secure mode of delivering parts that saved time compared with ocean shipments.
Yang Wieje, vice-president of Beijing Changjiu Logistics said there were particular advantages for using rail to feed automotive production because it supported regular supply of inbound parts.
"Using the train system couples the automotive industry in China well with Europe. It ensures just-in-time delivery of inventory and clearance of stocks rapidly," said Yang. "There is highly planned production to ensure stable supply, and the high value of goods means it can bear relatively high logistics costs; in other words, its tolerance is good."
Wang did recognise that the cost of using rail was higher and said that cost should be a priority consideration when planning logistics, not least because Chinese state and provincial subsidies for moving goods by rail, which could be as much as 60% per container, are not likely to last beyond the next two years. However, he looked forward to rail being further optimised as industrial volumes between China and Europe increase.
For volume shipments of its cars, Wang said Nio would use trucks conforming to the latest regulation on size and quality, known as GB1589 (2016). However, as part of its 'user thinking' approach, he said the company was also offering a premium service where individual cars would be expedited individually.
Read the full report from Automotive Logistics Global Shanghai