Toyota is realigning its production and service parts organisation by integrating its inbound and aftermarket supply chain departments into a new division called PDAD. Group vice-president of the new division, Alok Vaish, explains the thinking behind it
Automotive inbound production and service parts logistics share the common mission of transporting and storing parts and components – but for many carmakers, the similarities have tended to end there.
The two areas have different supply chain structures – inbound networks start from multiple points and funnel in to a few plants, while service parts tend to move to large warehouses and fan out to hundreds of dealer locations. Moreover, production part volume and transport flows typically dwarf those of service parts. Although both share common suppliers and locations, in many cases manufacturers treat these operations as highly different disciplines.
Such separation has also historically been the case for Toyota in North America, with inbound and in-plant productions ultimately part of its manufacturing organisation, while service parts came under sales.
But change has been underway over the past five years since Toyota kicked off its 'One Toyota' initiative. Most visibly, this has taken place through the construction of a new shared headquarters in Plano, Texas, but more deeply it has occurred through a programme aimed at service and cost improvements via the integration of operational and management functions, and encouraging more collaboration across the organisation. That has certainly included logistics, with inbound and service parts teams already exploring common facilities and processes.
Toyota has now kicked off 2019 with a major realignment of these organisations by merging what had been its inbound Logistics Control and Service Parts and Accessories departments in North America into a new division called Parts Distribution and Accessory Development (PDAD). The newly combined inbound and aftersales organisation is now led by Alok Vaish, who has become its group vice-president. He has considerable experience in service parts and distribution areas.
The goal will be to best share logistics, packaging and operational facilities, but also cultural and process optimisations. This will include the famous Toyota Production System (TPS) – across not only high-scale manufacturing activities but also customer services.
The extent of the reorganisation is significant. Not many of Toyota's rivals in North America have integrated such areas of logistics operations in inbound and service parts to this degree, according to Vaish (see box on p27).
Also notable is the degree to which managers and associates, who previously worked mainly in just production and service parts areas, will now share responsibilities across both. Vaish himself has worked primarily in service parts and customer operations, rather than mainly having a background in production.
Sharing strengths
Toyota's parts logistics was historically made up of two separate organisations, with a third managing finished vehicle distribution. Logistics Control, which had been located at the carmaker's former manufacturing headquarters in Erlanger, Kentucky covered manufacturing and engineering (inbound), while Toyota's Service Parts and Accessories Operations (SPAO) division had been responsible for the aftersales. SPAO had been based at Toyota's former sales headquarters in Torrance, California, and had been run almost entirely separate from the company's manufacturing and inbound logistics, with no sharing of facilities.
Toyota Logistics Services (TLS), which had also been based in California, has been responsible for outbound logistics and vehicle processing. TLS, while still its own division, is now in Plano, encouraging more links between other parts of the supply chain.
Since Toyota moved its departments together into a single location, Vaish says the company has seen significant savings between service parts and inbound transport costs.
"[This] is a major opportunity area considering we have parts coming into our parts centres from over 500 suppliers, most of whom are also supplying production parts," he points out.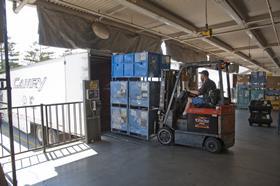 However, One Toyota is more about a mentality than a physical location, according to Vaish. "This mindset has inspired greater collaboration, innovation and faster decision making, all with an eye on our customers and yielding significant cost efficiencies," he says.
Combining the best practices of both was a clear opportunity to enhance the company's logistics networks and find new ways to apply TPS, says Vaish.
TPS is the carmaker's overarching organisation of manufacturing and logistics based on just-in-time and lean manufacturing principles designed to continually refine production and gain the cost efficiency Vaish is talking about.
Bringing together the expertise of its workforce on the inbound and aftersales sides of the business is the foundation for the success of the latest project and the merger has gone smoothly, according to Vaish.
"Borders came down quickly and the focus we all shared on embodying the next level of TPS and continuous improvement has allowed us to strengthen our existing partnerships while building new ones," he says.
Some of the greatest gains have been connected to the development of talent in the workforce, something aided by collaboration across the company's traditional organisational boundaries.
Learning from kaizen principles
Alok Vaish has moved into the role of group vice-president for Toyota's Service Parts and Accessories Division from a two-year assignment at Toyota's headquarters in Nagoya, Japan, where he was responsible for increasing sales and customer service through the carmaker's Parts Operation Division, supporting distributors in Europe, Africa and America.
He joined Toyota in 1992 as a kaizen engineer in the Toyota Logistics Services (TLS) division in Portland, Oregon and since then has held management positions across a range of areas including supplier development, procurement planning, supply chain improvement, strategic planning, field operations and systems planning.
According to Toyota, Vaish was first introduced to kaizen and Toyota Production System concepts at Tata Motors of India, where he worked following his bachelor's degree in mechanical engineering from Birla Institute of Technology and Science in Pilani, India.
Levels of improvement
The PDAD division will have three main units across planning, operations and accessories. Steve Brown, who has led logistics control, is now vice-president of Parts Supply Chain Planning (PSCP), which will handle original equipment and service parts. That unit will be subdivided into Advanced Planning and Cyclic Planning departments. The first, led by general manager Doug Adams, will manage systems, logistics projects and packaging; while the second will be led by group manager Jeff Estes, who will be responsible for logistics, supply, export and new model planning.
Vaish says advanced and cyclic planning are both about ensuring continuous improvement of flexibility and speed. "Planning does so from a longer-term perspective and with larger projects, such as new models, systems, and facility projects," he explains. "Cyclic planning is focused on routine and recurring planning activities such as route planning and inventory management."
In terms of packaging and containers, under the advanced planning remit Vaish says Toyota is taking advantage of the synergies between production and service parts.
"One prime example is being able to leverage the packaging engineering resources that have been used solely for manufacturing parts in the past," he says. "Applying their knowledge to the service parts world is a significant gain for the organisation."
Supply chain scope
The second main unit of the new PDAD division will be Parts Supply Chain Operations (PSCO), led by Neil Swartz, vice-president of parts supply chain management. Swartz was previously vice-president and general manager of what was then called North American Parts Operations (NAPO), which included the full scope of the service parts and accessories supply chain.
In that role, Swartz was not only responsible for service parts logistics and warehousing operations but also parts procurement and the associated forecasting and inventory management requirements. He brings that function into the new set-up and his unit is now managing daily supply chain operations for production and service parts.
PSCO will also be subdivided into two parts: Daily Operations and Fulfilment Operations. Daily Operations will be led by general manager Ed Huante, who will look after logistics operations, supply operations, supplier development and customer support; while Mike Schober will look after Fulfilment Operations and manage parts centres, PDCs and field operations support.
The third main unit is called Service Parts and Accessory Development (SPAD), which will organise accessory development and planning under the leadership of Greg Bernas, vice-president and chief engineer. That unit will again be subdivided into a Product, Pricing and Strategy department and an Engineering department. The first will be led by general manager Carla Neff, who will oversee product planning, business operations and strategy; while group manager Raul Perez will handle development and quality engineering.
Toyota North America's management structure
As well as affecting the services of its logistics providers, the merger of inbound and aftersales supply chains will obviously have an impact on plants, distributors and dealers. One of the main priorities in managing this impact is that all parties are aware of the details and able to provide feedback.
"We want any changes to be completely transparent [and] that's not a departure from our usual ways of collaboration," says Vaish. "We have made it a point to engage our customers for their input from the onset of new initiatives, and it is their input that has shaped our latest planning efforts."
Transport efficiency
Vaish says the greater visibility in the supply chain available through the merger of production and service parts logistics will lead to cost savings through more efficient processes.
"This is especially evident in the transportation realm, due to revised route considerations and improved brick-and-mortar utilisation; they are well into the millions of dollars," he says.
The two organisations, though previously on different sides of the country, did have some historic links. Even in Kentucky, the inbound and manufacturing teams worked with the service parts team to set the capacity requirements at suppliers for both production and service parts.
The outbound TLS organisation, meanwhile, is a customer of service parts, as parts warehouses deliver accessories and parts to vehicle distribution centres across the country.
In 2017, Neil Swartz told Automotive Logistics that both the inbound and service parts teams were starting to explore several areas of collaboration, including on common contract terms and standards for carriers, as well as sharing more planning, route engineering and parts consolidation.
The inbound team, for example, took over full truckload shipments and milkruns from suppliers for service parts deliveries, as well as handling more less-than-truckload freight.
"The manufacturing team has a lot of resources and knowledge. They have been saving us a lot of money," said Swartz.
A further phase was to be sharing service parts and inbound on the same trucks, which was already in pilot phase in 2017.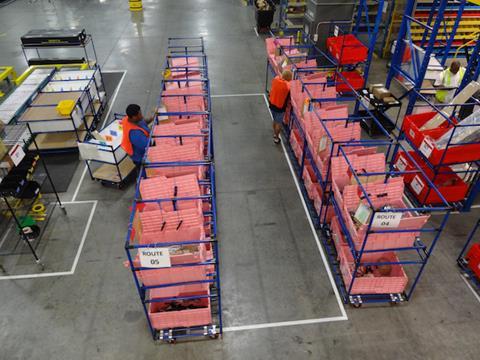 Vaish stresses the importance of now further developing TPS across logistics operations in more areas. The system is already renowned for the precision and consistency of its just-in-time delivery of parts, with stable and heijunka production flows (Japanese for 'levelled' scheduling) heavily dependent on good logistics and transport management. While maintaining consistent delivery, Toyota also has to build in flexibility in expediting parts through the supply chain.
To help with the revisions to its inbound and aftersales routing, Toyota is working with long-term logistics partners to improve efficiency on both sides, Vaish says. Toyota and Lexus dealers already have a strong and reliable parts distribution supply chain, and Vaish says the integration will only help to further improve the company's level of service.
"We are just starting to plan how we can use this broader logistics footprint to support our production parts needs," he says.
The service parts chain had already taken important steps to further integrate the principles of TPS into its own operations, according to Swartz. In 2015, he told Automotive Logistics that the service parts organisation used TPS principles in warehousing operations, including low inventory, lean principles and just-in-time delivery. He also pointed to principles like task and performance visualisation on the shopfloor.
TPS also has applications in ensuring optimal customer focus and delivery, which had led Toyota to implement a number of service parts changes including multiple daily deliveries in some areas, free returns and later order cut-off times.
Growth in accessories
Though early days, the merger of production and aftersales is the next stage in the development of TPS-supporting logistics, says Vaish. And the importance of better serving the customer will be at the heart of that.
Vaish predicts one big trend that will shape Toyota's logistics services and its business overall will be the growth in accessories and customisation. Consumer demand for accessories is unprecedented. It is currently a $40 billion-plus industry with a 50% profit margin. The current range of customised parts is not something that Toyota, or any major carmaker, has previously offered.
That new landscape will put new demands on Toyota's combined parts logistics, for which Toyota will be better positioned to respond, according to Vaish, given the flexibility afforded by the new arrangements.
And, while it is still hard to forecast customer trends and the impact of new mobility models on the carmaker's production, logistics and aftersales maintenance, Toyota's integrated supply chain, and its kaizen principles, will enable it to respond faster to customer needs, says Vaish – principles that are at the heart of TPS.
"Whatever changes take place with our vehicles, supporting them will be all about immediacy and quality," he states.
Reorganisation by other vehicle-makers
While Vaish points out that the level of inbound and service parts logistics integration occurring at Toyota is rare in North America, there are a number of other significant moves being made by rival carmakers to maximise the efficiency of inbound and outbound supply chains.
Ford North America is already combining inbound and services parts transport purchasing under material planning and logistics (MP&L) and is also working with its suppliers to develop capacity requirements. The company started doing so several years ago both to increase transport efficiency and to deal with supplier shortages.
Meanwhile, at Fiat Chrysler Automobiles, service parts are organised separately under the Mopar division, but service parts logistics purchasing is combined in some areas with logistics purchasing, such as for cross-border operations. This allows for a more integrated view, better sharing of best practices and greater economies of scale, according to the company.
Volkswagen Group of America also combines US service parts and vehicle logistics and there are plans to further integrate aspects of purchasing and planning across the US, Canada and Mexico for inbound, outbound and CKD.
Finally, BMW North America operates a facility in Greer, South Carolina that handles both inbound parts for the plant and service parts to avoid double shipping. The facility, which the OEM refers to as a 'continental distribution centre' (ConDC), is a new type of operation for BMW outside Germany and aims to substantially cut delivery lead times, transport costs and shipping errors.