Audi is using 3D holograms to better plan production logistics processes at its vehicle assembly plants. The use of augmented reality technology removes the need to produce prototypes of equipment or containers, making planning more cost and time efficient, according to the carmaker.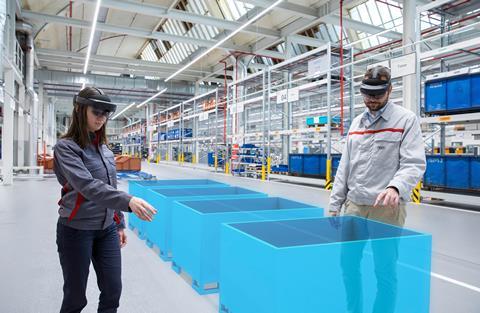 The system, called LayAR (for layout and augmented reality), uses HoloLens 2 reality smart glasses from Microsoft to give planning operatives a three-dimensional virtual presentation of the working environment complete with objects including shelves, containers and parts – a digital twin of the actual environment. The virtual tool facilitates precise measurement of distances and areas directly in the holographic image.
"In order to visualise structures and relative sizes up to now, we have been using in‑house prototypes of containers, shelves and lines elaborately affixed to the floor," said project manager Tobias Brigl. "This calls for a great deal of imagination. Augmented reality (AR) is an ideal tool to close the gap between the real and the virtual worlds. It helps to recognise problems early on and to develop solutions quickly."
Users can reach for and move the objects with simple hand movements and all users can see the changes updated in real time as the generated holograms are shared across multiple AR devices at the same time. As everyone working on a project sees the same thing, discussion and cooperation becomes much easier, to the extent that teams in different plants and even countries can easily work together.
Audi set up a supply chain planning project team to test the new software together with development partner Viscopic for a number of months.
AR devices have now become a permanent part of logistics planning at Audi. In one example logistics experts in the Ingolstadt body shop are currently planning machine technology for using a driverless transport system well in advance of the automated guided vehicles (AGVs) actually being delivered.
The carmaker said LayAR would soon also be used for setting up the production of electric vehicles in the main plant.
Production planning from home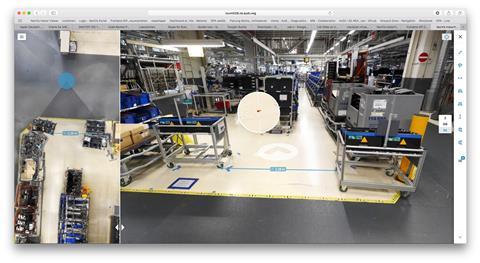 Earlier this year a three-person team at Audi worked with German software mapping start-up NavVis to produce a digital twin of the carmaker's Neckarsulm production facility. The team, led by project manager Andre Bongartz, scanned the production halls and other areas to create the virtual model.
The virtual production hall, including all machines, systems and shelves, can now be accessed remotely, enabling site-independent planning. That became important this year as the coronavirus pandemic necessitated physical distancing in the workplace.
Planners can measure the production halls from home and thus plan systems precisely without even having a pocket rule in their hands," according to Bongartz.
AR is now being used during planning workshops in the production hall, during presentations and in layout discussions in the office.