BMW Group is more closely aligning its purchasing activity with goals for greater sustainability as it plans for greater vehicle electrification.
The carmaker plans to have more than 7m electrified vehicles on the road by the end of this decade, with two thirds of them fully electric. That means greater sourcing of critical raw materials, such as those used in the batteries that drive them. Those batteries include lithium, cobalt and nickel. As well as the environmental impact of mining these materials, there are human rights issues associated with some of the areas in which they are mined.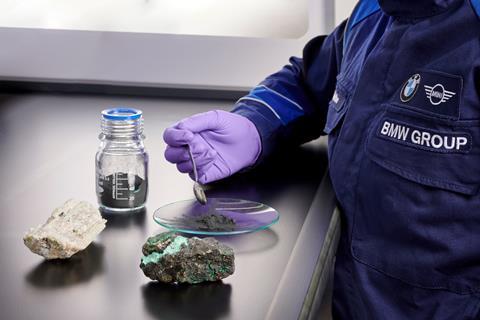 According to BMW, since 2014 all of its direct suppliers have been contractually obliged to respect human rights, comply with expanded environmental and social standards, and to introduce management systems to promote occupational safety and protect the environment. The carmaker said these requirements must be passed on to subcontractors. Mercedes-Benz recently announced similar measures to ensure its battery supply chains are sustainable.
BMW Group Purchasing has also implemented measures to ensure cobalt extraction and processing take place in compliance with sustainability standards and to avoid problems with working conditions, such as child labour. The company is sourcing cobalt and lithium directly from the mines and making it available to battery cell suppliers, which has the added benefit of guaranteeing predictable pricing.
"We believe sustainability is an integral part of all purchasing activities," said Andreas Wendt, head of the BMW's purchasing and supplier network. "So, as we accommodate the planned growth in electrified vehicles in the supplier network, we are at the same time integrating our sustainability requirements into all contract awards."
BMW said that its purchasing now focuses on three main areas: compliance with environmental and social standards, and respect for human rights, protection of natural resources, and the reduction of CO2 emissions in the supply chain.
BMW's purchasing division is implementing measures beyond contractual obligations to make the sourcing process more transparent and ethical. It explained that a risk filter is used to evaluate potential supplier locations worldwide prior to tenders. Potential suppliers also need to outline their sustainability activities in a detailed questionnaire. External partners also work with internal appraisers to review selected locations.
"Compliance with the defined sustainability requirements is a prerequisite for awarding a contract," said BMW in a statement. "Throughout the contract period, external partners work with internal appraisers to verify compliance with sustainability requirements through questionnaires and audits."
At the same time as ensuring the sourcing of materials is more transparent the carmaker outlined how it was making efforts to limit their use. According to the company, it has reduced the amount of cobalt in the cathode material for the current fifth-generation battery cells to less than 10%, and increased the amount of secondary nickel to up to 50%. The e-drive used in the BMW iX no longer requires the use of rare earth minerals, it said.
Read more about BMW's efforts to localise battery material supply around the world