A growing number of carmakers are looking to China for the production of electric vehicles (EVs) destined for sale in Europe, including Tesla, BMW and Renault.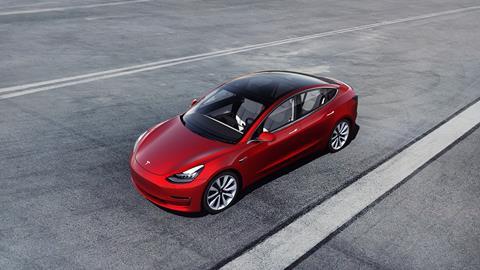 China is leading the world in the development and manufacture of EVs and has a well-established supply chain for their production, particularly when it comes to the lithium-ion batteries.
It is looking at being the world's number one producer, exporter and user of 'new energy vehicles', which includes fully electric, plug-in hybrids and fuel cell versions. That has been helped by government policy to encourage EV sales and production, which has led to significant growth in the segment.
Tesla has said it will start exporting volumes of the Model 3 from China to Europe beginning this month. The carmaker, which is targeting 10 European countries initially, opened a $2 billion plant in Shanghai in October 2019 to produce the Model 3 saloon. The factory, which also assembles battery packs, has started with an annual production capacity of 150,000 Model 3 cars but has plans to increase that to 250,000 vehicles a year when it starts making the recently-launched Model Y SUV there next year.
Tesla would not comment on the volumes it expects to ship to Europe or for how long it would be exporting. The carmaker is due to open a plant in Germany next year, at Grünheide, 30km southeast of Berlin. That facility is also expected to make the Model Y at first, with Model 3 production to follow.
Meanwhile, BMW is planning to export its first fully electric SUV, the iX3, from China to Europe. The iX3 is being made alongside the combustion-engine version of the BMW X3 at the joint venture plant BMW has with Brilliance Automotive in Shenyang. BMW Brilliance Automotive (BBA) started production of the model at the end of September. At the same time BBA expanded its battery factory in Tiexi to supply the fifth-generation BMW eDrive used in the iX3.
The Renault-Nissan-Mitsubishi Alliance is also planning to export the Dacia Spring electric SUV from China to Europe when it goes into production next year at carmaker's joint venture plant with Dongfeng Motor in Shiyan – eGT New Energy Automotive. It already produces the Renault K-ZE, which is closely related to the new Dacia.
Furthermore, Daimler is also planning to export its Smart city car from Hangzhou as part of the joint venture it signed with Geely last year. Production of the Smart in China is expected to begin in 2022.
Polestar, the performance EV joint venture between Volvo and its parent Geely, is already exporting its Polestar 1 and 2 to Europe from China. The first European deliveries of the Polestar 2 came in through the port of Zeebrugge in July this year.
China has made some important changes to its trade and ownership models, lowering imports and revamping its shareholding regulations to enable foreign carmakers to have more than a 50% share of China-based businesses.
As well as government subsidies for the production of EVs, China now has a more open approach to trade, which is leading to the establishment of more free trade zones, where goods and components can be stored without duties and taxes.
China's own carmakers are also making inroads to Europe for sales of electric vehicles.
Chinese start-up carmaker Xiaopeng Motors (XPeng) has started exports of its G3i electric SUV to Europe, with the first models expected on the roads in November this year.
Exports from China to Europe (and the rest of the world) are being helped by the comprehensive international trade and infrastructure plan introduced in 2013 and known as the Belt and Road Initiative, which has rapidly progressed the development of services by land and sea.