Chinese start-up carmaker Xiaopeng Motors (XPeng) has started exports of its G3 electric SUV to Europe, with the first models expected on the roads in November this year. The vehicle went on sale in the country in June. The vehicles were loaded at Xinsha Port in Guangzhou on September 24.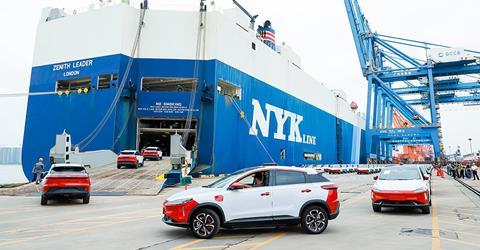 "The first European version of the ultra-long-endurance smart SUV Xiaopeng G3 officially launched in Norway today," said Xia Heng, co-founder and president of XPeng. "We are very proud. This marks the development of Xiaopeng Motors from product development, intelligent manufacturing to the market. All aspects such as expansion have taken a new step and have begun to be tested by overseas consumers."
The G3 compact SUV is Xpeng's second production model. XPeng only began distributing vehicles in China in June, with Xpeng P7 sports sedan the first production model to come out of its plant in Zhaoqing, Guangdong Province. The EV maker was granted its official production licence in May this year. The plant was built in 15 months and is situated in the Zhaoqing Xpeng Motors Intelligent Industrial Park.
Electric vehicles are sold under a preferential tax system in Norway, making them extremely popular in the country. This is one reason that XPeng has started its European sales there. In 2019, more than 60,000 out of a total of 142,000 vehicles sold were pure EVs (42%), according to figures from Norway's automotive industry group OFV. Last year the Tesla Model 3 was the highest selling EV, followed by the VW e-Golf, Nissan Leaf and Audi e-tron.
XPeng Motors is working with Norwegian dealer Zero Emission Mobility (Zem) for vehicle sales and aftersales service in the country.