If there is one silver lining to the Covid-19 crisis, it is that carmakers and their suppliers have been forced to adopt digital tools to communicate faster and to remotely visualise together what is necessary in managing plant shutdowns and ramp-ups. Lessons have been learned in how better to establish the digital transformation of supply chain management that will push the industry forward as a whole.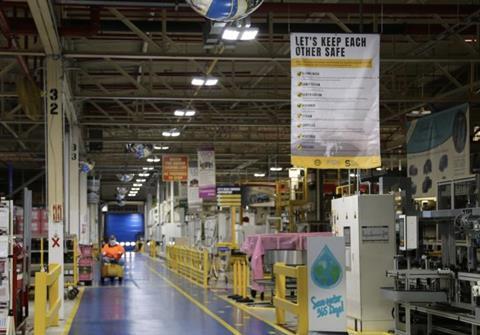 At the recent ALSC Live conference, Marc Brazeau, head of logistics at FCA North America, said the crisis had increased the understanding within individual organisations of the value of digital transformation, particularly in areas of the supply chain to which it lends itself, logistics and transport being two of them.
"What we have learned through this pandemic is that – one, we have developed communication processes to properly run through [it], and – two, if we had some of the digital tools to move to predictive data management and business intelligence, it would allow us to create a framework to establish business learning and algorithms around the decisions that we make," he said.
FCA switched to 'sprint' meetings with internal teams and suppliers using digital communication platforms to speed up decision making on the shutdowns of the plants in its network. It was also crucial to the restart of operations, according to Brazeau.
"We all recognise that our success in relaunching our plants really was born in the success of our interaction with our tier one and two supply base," he said. "At the end of the day we could be ready to build and assemble whatever… [but] we had to work with our suppliers based on their constraints."
Real-time insights
That was a point reinforced by Raman Mehta, chief information officer and vice-president at tier one supplier Visteon, a company that began its software-centric journey a couple of years ago. The company had already moved its network onto the cloud, which was a good jumpstart into digital communications, according to Mehta, and has helped through the crisis.
"We were already getting warmed up to collaborative and remote working," said Mehta. "What Covid did was to accelerate that journey."
Visteon had dashboards in place providing real-time insights with which staff were able to make immediate decisions, notably when supply was affected in China at the very start of the year.
"Our challenge was how quickly to shut down and how to get real-time visibility," said Mehta. "A person sitting in a supply chain control centre has got to know in real-time who and where are the alternative suppliers. You cannot rely on discrete data points. You need continuous data flow from supplier shipment through to your docks and the customers."
Visteon made a digital twin of the supplier network and established key performance indicators to visualise what was causing disruption to different parts of the supply chain. Mehta said it was important not to lock key data into spreadsheets but maintain a continuous view of the bill of material as it went from manufacturing, through shipment to service point.
"That became a CEO discussion and now they are willing to invest in those technologies and work with IT," said Mehta. "They know we know the tools and have the technology, and above all we have a 360-degree view of the business process."
Dealing with the cybersecurity issues of working outside the trusted company network was also part of the journey and Visteon is exploring zero-trust networks for staff working from home that provides secure connection to systems even without VPN access.
"That has been a big journey and the investment we made a year back has absolutely paid off," said Mehta.
Digital agility
The move toward a more agile organisation in terms of processes supported by digitalisation is also a focus for VW Group. Susanne Lehmann, director of production for the North America region, said the challenge of securing online simulation tools to support the carmaker's supply chain experts in making the right decisions at a time of ramp up in North America was multifaceted and needed the involvement of all parties, including the supply base.
By way of example Lehmann said it was necessary to be able to quickly see whether engines could be sourced from other markets, how fast they could be imported and how much money it would cost. It was also crucial have visibility of how productivity was affected by changing production schedules.
"We all have to attack this together with the supplier base, and this is a challenge we still have in the NA region," she said.
A bigger question, however, is how to make sure that every part of the supply chain is included in the simulation used to speed decision making, including the logistics providers and suppliers with workforces that continued to receive government furlough support and were at home rather than in work.
Ultimately, though, what digital tools and the high degree of communication they support have managed to do is break through the traditional silos that existed just six months ago.
"It is exciting to see what we carry forward in terms of lessons learned but more importantly how do we establish a digital transformation habit, not just individually but [one that] pushes the industry forward," said FCA's Brazeau.
Videos from Automotive Logistics and Supply Chain Live can be viewed here.