Hyundai Motor Group is buying an 80% stake in robotics provider Boston Dynamics, worth $880m to develop and commercialise robotics, with applications ranging from component manufacturing to smart logistics.
Hyundai said it plans to invest in logistics robots in order to enhance efficiency and establish logistics automation, as well as develop service robots.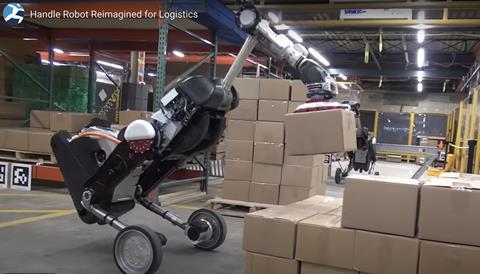 Boston Dynamics makes agile, mobile robots that can work in difficult, dangerous or unstructured environments. However, it has also been exploring applications in manufacturing and logistics environments to carry out repetitive and physically demanding tasks. In March this year it unveiled a demonstration of future warehouse logistics with Otto Motors, in which its Handle logistics robot picked boxes and loaded pallets carried by Otto Motors' automated mobile robots (AMRs). It is also has logistics applications with its computer vision-based depalletizing solution, called Pick, and will introduce a mobile robot for warehouses in 2021.
"Boston Dynamics' commercial business has grown rapidly as we've brought to market the first robot that can automate repetitive and dangerous tasks in workplaces designed for human-level mobility," said Robert Playter, CEO of Boston Dynamics. "We and Hyundai share a view of the transformational power of mobility and look forward to working together to accelerate our plans to enable the world with cutting edge automation, and to continue to solve the world's hardest robotics challenges for our customers."
Hyundai said the acquisition, which will make it a partner with SoftBank Group, Boston Dynamics' parent company, would mark a major step towards its strategic transformation into a smart mobility solution provider. The deal is expected to benefit each company's strengths in manufacturing, logistics, construction and automation.
Hyundai said it was also looking for new mobility solutions such as autonomous driving and urban air mobility (UAM), as well as smart factory platforms.
"We are delighted to have Boston Dynamics, a world leader in mobile robots, join the Hyundai team," said Euisun Chung, chairman of Hyundai Motor Group. "This transaction will unite capabilities of Hyundai Motor Group and Boston Dynamics to spearhead innovation in future mobility."
The transaction is subject to regulatory approvals and other customary closing conditions and is expected to close by June of 2021.