Bodies representing the UK's automotive and logistics sectors are calling on the government for a zero-tariff trade deal with the European Union and clearer instruction on customs processes as Brexit negotiations enter their final stage.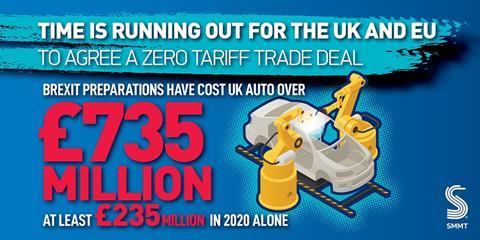 With just 30 days remaining until the Brexit transition period ends, there remain barriers to reaching the trade deal, including state aid for companies and fishing access.
Until those issues are solved there remains a lack of clarity on what trading between the EU and UK will look after December this year. The National Audit Office has warned of "significant disruption" at the border regardless of whether the Government is able to secure a free trade deal. The coming week is a crucial one in overcoming the existing impasse and addressing the disruption.
The Society of Motor Manufacturers and Traders (SMMT) has reiterated calls for both sides to reach an agreement on frictionless trade without tariffs for the automotive sector. A no-deal outcome would cost the UK car and van industry £47 billion ($62 billion) in lost vehicle trade over the next five years, according to the SMMT. That comes on top of the £735m ($970m) already spent by the sector in preparing for Brexit, while at the same time navigating the ongoing Covid-19 crisis.
"As the UK-EU FTA negotiations enter the endgame, now is the time for both sides to deliver on promises to safeguard the automotive industry," said Mike Hawes, chief executive of the SMMT. "Securing a deal is absolutely critical, but it cannot be any deal. To work for UK automotive, it must deliver for UK products and that means securing the right terms and conditions that allow our exports – now and in the future – to be zero tariff and zero quota trade.
"A deal that failed to achieve this would be the equivalent to no deal at all, devastating jobs and slamming the brakes on the UK's ambitions to be a world leading manufacturer and market for electrified mobility and battery technologies."
The SMMT also warned that a no deal Brexit could push up the cost of buying an imported battery electric vehicle (BEV) in the UK by £2,800 ($3,600), with two thirds of all BEVs on sale in the UK being imported from Europe.
Survey reveals lack of clarity
A survey carried out by the SMMT revealed that 67% of companies across the industry were preparing for the new processes that would be introduced from January 1 next year. That included securing GB Economic Operators Registration and Identification (EORI), an identification number for all customs procedures which allows companies to move goods between England, Scotland and Wales, and the EU. Without an EORI number the cost of moving those goods risks being increased and it can lead to costly delays. Delays are a particular issue for the automotive industry, which gains competitive advantage from just-in-time (JIT) deliveries of inbound parts and materials.
However, 86% of UK companies said the lack of clarity on future trading with the EU left significant gaps in the industry's ability to prepare.
According to the SMMT, critical questions remain unanswered, such as new customs systems including the Goods Vehicle Movement Service (GVMS) and the Permission to Progress (P2P) process, which would avoid delays to JIT shipments. Even if the UK and EU do conclude a Free Trade Agreement (FTA) from the end of 2020, there is uncertainty as to how companies will prove origin or products, said the SMMT. If they are unable to do so, then they will not be able to benefit from preferential trading terms.
"The industry must have a deal, and one that delivers zero-tariff, zero-quota trade with highly ambitious rules of origin provisions and a phase-in period that allow businesses time to adjust," said the SMMT in a statement.
Ten key requests from UK automotive industry
A temporary grace period for exporters of at least one year to obtain supplier declarations
Clarity on the format of the upcoming origin declarations and the necessary supporting documents and IT processes
Certainty on preferential origin formalities for export to the UK's other FTA trading partners
Guidance on valuation and origin of used products, or 'cores', imported into the UK for remanufacturing purposes
Detail on the Permission to Progress (P2P) process and Goods Vehicle Movement Service (GVMS) to mitigate the risks to Just-in-Time manufacturing. If there is substantial time between a company submitting a customs declaration and receiving a P2P there is a risk the manufacturing site becomes a lorry park and production gets significantly disrupted
Draft legislation on how UK government will handle returnables/stillages/empty packaging that was committed to back in April 2020
Support in connecting with third party customs intermediaries
Extend access to the £84 million customs funding to all traders to boost their customs capacity and preparedness
Publish a full list of ports and which operating model they will use as a matter of urgency
Significantly more operational level information from government on the workings of the Northern Ireland Protocol.

Impact on freight industry
Meanwhile, Logistics UK (formerly the Freight Transport Association) has warned that a no-deal Brexit would add more than £240m to the industry's annual bills because of the imposition of WTO tariffs on new vehicles, parts and equipment. According to Logistics UK more than 70% of heavy goods vehicles (HGVs) are manufactured in the EU. A no-deal Brexit would see new vehicles incur a 10% tariff, which would amount to an estimated £7,000 or more per vehicle. With around 48,500 trucks bought by UK businesses every year from European truck makers, the cost of a total tariff would amount to £240m.
"Add on the 4% tariff on tyres for vehicles and around the same level for spare parts from the EU, and that equates to a massive tax on logistics companies already reeling from the impact of the Covid-19 economic downturn," said David Wells, chief executive of Logistics UK.
Wells also expressed exasperation that the government had announced a Business Task Force at the end of last week, what was a very late stage in the negotiation process.
"At this point in time, business needs direction and decisions by government, not another set of meetings," said Wells. "With information still needed from government and decisions required on [Great Britain-Northern Ireland] trade, this feels like nothing more than a smokescreen to cover up the government's lack of focus on the issues which will hit the UK hard come 1 January 2021."
The Road Haulage Association (RHA) has also expressed its frustration that there is not yet a workable guide for logistics and transport companies to use to prepare their drivers for new border controls. A new draft is due on November 18 with a final version not expected until December 7 but, according to Financial Times, drafts of the guide have been rejected as unusable.
The RHA has set up a Customs Brokerage service to provide the haulage and logistics sectors with guidance on new processes.
"We know that the haulage and logistics sector needs guidance as to the new processes," said RHA chief executive, Richard Burnett. "Many companies already work closely with their customs brokers and they will easily be able to adapt to the new regime. But following an extensive industry survey, we have established that over 63% of operators are unprepared for the customs changes."
Initially focussing on ro-ro traffic, the RHA Customs Brokerage service will be electronically connected to all 26 major UK ports and will ensure that ro-ro declarations can be completed in a way that suits operators and traders.
Read more about the latest developments in the Brexit process and its impact on the automotive industry in AL FVL Winter edition 2020, which will be published in December.