Volkswagen Group's 50,000 sq.m regional parts distribution centre (PDC) in the Malaysian port of Tanjung Pelepas is processing aftersales parts for 21 markets in the wider Asia-Pacific region.
[Update] Following the relocation of its regional aftersales distribution to Malaysia in 2019, VW is reporting distribution improvements of 15% and has renewed its cooperation agreement with the Malaysian Development Investment Authority (Mida). The carmaker also continues to benefit from tax incentives and import/export support through Malaysia's Global Trading Centre (GTC) scheme.
The PDC is situated in the port's free trade zone in the Johor region and replaced the carmaker's previous facility across the water in Singapore when it made the move two years ago. The GTC scheme was written into the country's 2021 budget to help build Malaysia's position as a global supply chain hub by providing incentives for domestic and foreign business investment.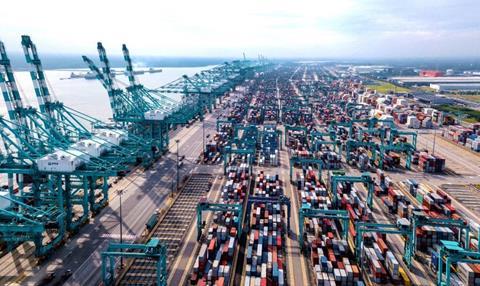 The VW PDC can store around 65,000 genuine aftersales parts for VW Group brands, including VW brand cars, Audi, Škoda and VW Commercial Vehicles.
VW said the site improves distribution and process efficiency by 15%, with direct port connectivity and links to air hubs and the road network, enabling faster cargo turnaround. Warehouse processing efficiency is also aided by storage technology, such as a semi-automated paternoster storage and retrieval system and narrow-aisle racking.
In addition, VW is now providing value-added services, including repacking and relabelling for dealer distribution.
"Our new PDC in Malaysia undoubtedly strengthens Volkswagen Group's global aftersales' supply chain – a key milestone in providing improved genuine parts delivery to our customers in Asia Pacific," said Roman Havlásek, head of VW Group After Sales. "The Malaysian Government, through the Malaysian Investment Development Authority (Mida), greatly supported our relocation to Malaysia. We were pleased by the ease of implementing our project here and the assistance given by the team at Mida."
The carmaker said that thanks to support Malaysian government it was able to progress with the setup and operation of the new facility in the face of the disruption caused by the coronavirus pandemic.
Despite the unprecedented Covid situation, the Malaysian government swiftly implemented measures to enable business continuity within the safety of workers and community, which is also our top priority," said Marco Beitien, director of aftersales for the regional office in Asia Pacific. "This allows us to maintain stable parts supply in the region to support vehicles of the Volkswagen Group used in the essential industries like ambulances and security vehicles, even during the critical phase."
VW Group is looking at further growth for both vehicles and parts sales in the Asia-Pacific region, including for electric vehicles such as the ID.3, ID.4 and Audi e-tron, according to Christian Dahlheim, head of Volkswagen Group sales.
"Apart from the vehicles, a strong aftersales performance is key for customer satisfaction," said Dahlheim. "Malaysia offers a central and well-connected location which perfectly suits our plans to expand our foothold in the region."