Great Wall Motor's subsidiary, Haval, has become the first Chinese carmaker to sign a special investment contract with the Russian Industry and Trade Ministry. Under the agreement, Haval will invest 42.4 billion rubles ($650m) to expand the car plant it opened in Uzlovaya last year and build a components plant to localise the supply of core parts, including engines, transmissions, electronic control modules, and vehicle control systems.
The signing of the special investment contract is part of Great Wall Motor's strategic plan to speed up localised production in Russia, according to Zhang Junxue, vice-president of the carmaker.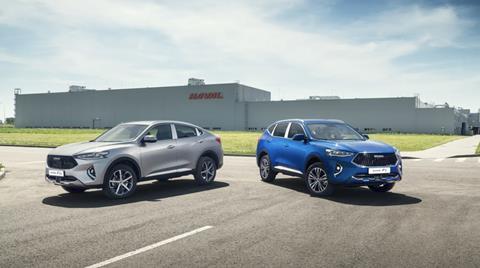 Haval is expected to ramp up annual production at the plant in Uzlovaya Industrial Park, which is near Tula, south of Moscow, from the current 80,000 vehicles to 150,000 per year by 2022. Haval sells the F7, F7x and F9 SUVs on the Russian market.
The Tula plant is the biggest plant project implemented by a Chinese carmaker in an overseas market and the first one that covers the four major manufacturing techniques of stamping, welding, coating, and final assembly, the company said.
Speaking shortly after the signing ceremony, Denis Manturov, Russian Industry and Trade minister, claimed the high degree of localisation achieved through the special investment contract would greatly improve the competitiveness of Haval on the Russian market, as well as ensuring Great Wall Motor's long-term localisation of key auto components and parts in Russia.
Modest growth
Haval has been experiencing growing popularity on the Russian market even during the Covid-19 pandemic. According to Russia's Federal State Statistics Service, the company managed to sell 1,422 finished vehicles in September this year, 21% up compared to the same month last year. During the first nine months of the year, Haval sold just over 11,600 vehicles, 66% more than during the same period of 2019.
While the numbers seem modest the result comes against a background of negative vehicle sales in Russia. In the third quarter of 2020, sales of new cars and light commercial vehicles decreased by 13.9% (176,590) compared to the same period in 2019. Overall sales stood at 1.09m units, according to data from the Russian Association of European Businesses (AEB).
However, there are already some signs of recovery. In September 2020, sales of new cars and light commercial vehicles in Russia increased by 3.4% compared to September 2019 and amounted to around 154,400.
Dr Thomas Staertzel, chairman of the AEB Automobile Manufacturers Committee said: "For the first time this year, the biggest players could even outperform the market average and contribute to a more mild year-on-year decrease of 13.9%. Hoping for a relatively stable fourth quarter without serious business limitations, and despite the currently worsening pandemic situation, the new AEB Automobile Manufacturers Committee 2020 forecast is more positive, with 1.52m passenger vehicles and LCVs sales forecast, which means 13.5% decrease year-on-year," he added.