Ford has indicated it could salvage manufacturing in India by focusing on electric vehicles (EVs) for export markets.
The company has applied for funding support through the Indian government's Production Linked Investment (PLI) initiative, which aims to increase the production of goods in the country. India hopes the scheme will result in the manufacturing of $500 billion worth of goods in the next five years. Ford is one of 20 companies to be approved (out of 115 applications) for funding through the Champion OEM Incentive Scheme, which is one part of the wider funding mechanism. Fourteen of those are vehicle makers.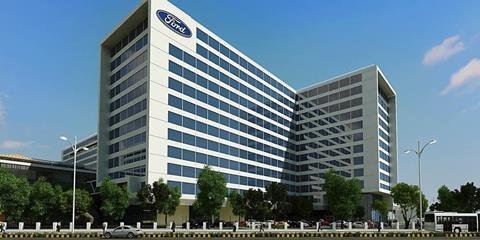 "We thank the government of India for approving Ford's proposal under the PLI scheme for the automobile sector," said the carmaker in a statement. "As Ford leads customers through the global electric-vehicle revolution, we're exploring the possibility of using a plant in India as an export base for EV manufacturing."
Amongst the other OEMs approved for the funding scheme are Tata Motors, Mahindra and Mahindra, and Hyundai-Kia (see box below for full list).
Ford said the project was in the exploration stage, with discussions ongoing, and it was not ready to share any additional details of the plans at this stage.
In September last year, the carmaker said it was ending vehicle production at its plants in India after a decade of poor market penetration and losses totalling around $2 billion. Vehicle production at its Sanand plant in Gujurat ceased in 2021, and vehicle and engine assembly plants in Chennai, Tamil Nadu, were due to close by the second quarter of 2022.
The carmaker said it would be meeting demand in India for its vehicles through imports and this is likely to continue for current products sold there.
Ford began making cars in India in 1995 but for the decade up to 2021 had been operating at half its installed annual capacity of 440,000 vehicles. In 2020 output dropped to 25% of installed capacity because of the impact of the coronavirus pandemic on production and sales.
Companies approved for funding under Champion OEM Incentive Scheme
Vehicle makers (including two- and three-wheel)
Ashok Leyland
Eicher Motors
Bajaj Auto
Ford India
Hero MotorCorp
Hyundai Motor India
Kia Motor India
Mahindra and Mahindra
PCA Automobiles India
Piagio Vehicles
Pinnacle Mobility Solutions
Suzuki Motor Gujarat
Tata Motors
TVS Motor
Other investors
Axis Clean Mobility
Booma Innovative Transport Solutions
Elest Private
Hop Electric Manufacturing
Ola Electric Technologies
Powerhaul Vehicle