Ford has confirmed it is ending vehicle production at its plants in India after a decade of poor market penetration and losses totalling around $2 billion.
The company has already stopped assembly of vehicles for domestic sale at the Sanand plant in Gujarat. Sales of current products such as the Figo, Aspire, Freestyle, EcoSport and Endeavour will cease once existing dealer inventories are empty. The manufacturing of vehicles for export at Sanand will wind down by the fourth quarter of this year. Ford was one of the top three exporting carmakers in India in 2019. Other production locations will supply those markets.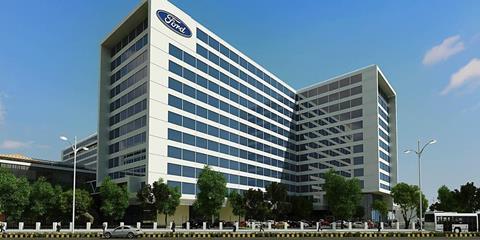 However, engine production at the Sanand plant will continue for export markets selling the Ranger pick-up, saving 500 jobs. Ford will maintain a smaller network of suppliers to support that engine trade.
Vehicle and engine assembly plants in Chennai, Tamil Nadu, will close by the second quarter of 2022. Overall job losses at Sanand and Chennai are expected to number around 4,000, according to reports.
Ford made a similar move in South America at the beginning of this year with the announcement it was closing all three assembly operations in Brazil.
Sales of Ford will continue in India from imports. The carmaker said it would continue to provide customer support operations for imported vehicles including servicing, aftermarket parts supply and warranty coverage. Ford said it will maintain parts depots in Delhi, Chennai, Mumbai, Sanand and Kolkata, and will work closely with its dealer network to restructure and help facilitate their transition from sales and service to parts and service support.
Under capacity
Ford, which began making cars in India in 1995, has accumulated operating losses in India of more than $2 billion over the past 10 years. Installed capacity across the two vehicle plants amounts to 440,000 but the company has been operating at around 50% capacity for that time, which includes production for export. Demand for new vehicles has been weaker than forecast, admitted Jim Farley, Ford's president and CEO, though the company would not release precise figures. Last year output dropped to 25% of installed capacity because of the impact of the coronavirus pandemic on production and sales.
Overall production in India between 2019 and 2020 was 3.4m according to figures from Society of Indian Automobile Manufacturers (Siam). That dropped to 3.06m for the following year.
Ford said it had taken the step to end vehicle production after looking at several options, including partnerships. A proposed joint venture with Mahindra & Mahindra was cancelled in December last year. Ford also looked at platform sharing, contract manufacturing with other OEMs, and the possibility of selling its manufacturing plants, which is still under consideration.
"Despite these efforts, we have not been able to find a sustainable path forward to long-term profitability that includes in-country vehicle manufacturing," said Anurag Mehrotra, president and managing director of Ford India. "The decision was reinforced by years of accumulated losses, persistent industry overcapacity and lack of expected growth in India's car market."
Production for export had taken a knock back in 2017 when Ford decided to move assembly of the Ford EcoSport from the Chennai plant to its plant in Romania. Prior to that all EcoSport's sold in Europe had been imported from India. At that point Ford still saw India as a strategic export hub for vehicles bond for the wider Asia Pacific region but the steep increase in sales of the EcoSport in Europe convinced it to move production closer to the market, which took away a good percentage of production.
The carmaker made an effort to reduce freight costs and lead times in India when it decided to insource and digitalise its fourth party logistics (4PL) logistics management in India, as part of a wider strategy in Asia Pacific, Africa and South America.
In 2018 Ford reorganised its business in Asia Pacific with the establishment of Ford International Markets Group (IMG), which included India, South Africa, Thailand and Vietnam, while China was made its own division. The carmaker was in the process of establishing a new material planning and logistics team at Ford IMG but so far there is no indication of how that reshuffle has been affected by the decision to withdraw production from India.
The company said it would now focus on growing its Ford Business Solutions service in India. and provide more opportunities for software developers, data scientists, R&D engineers, and finance and accounting professionals. Ford Business Solutions will support the Ford+ modernisation and growth plan, which includes investment in electric, connected and autonomous vehicles, and other new mobility products and services. The carmaker said it was to investing more than $30 billion globally to deliver new hybrid and fully electric vehicles.