The ongoing disruption caused by the Covid pandemic has put the spotlight on the hidden world of supply chain and logistics organisation. At the same time, crisis management, which shows no signs of abating, has necessitated greater visibility within the supply chain itself, something that has accelerated the application of digital tools and highlighted the need to ditch slower and less flexible legacy systems.
[Updated October 13] At last week's Automotive Logistics and Supply Chain Global Live conference, executives from the some of the world's leading carmakers based in North America discussed how crisis management has realigned the logistics and supply chain function within their organisations, and put it front and centre.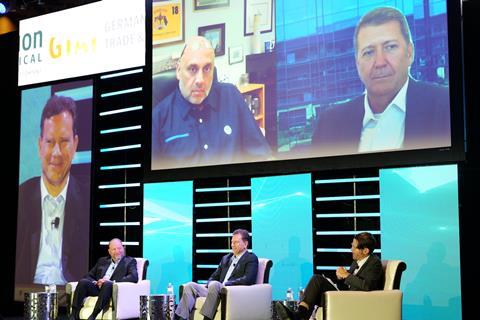 "There is more visibility in the supply chain of our business now than there has been in years," said George Grahovac, department lead for supply chain and delivery at Honda Development and Manufacturing of America "It is a wonderful thing and a challenging thing at the same time.
It has never been more challenging at the moment. Port congestion is adding weeks to the inbound delivery of goods, especially between China and the US, and ocean shipping costs were at an all-time high in September this year. According to the Freightos Index the median cost of shipping a standard TEU container between China and the West Coast of the US stood at nearly $20,600. The chronic driver shortage is further hampering the delivery of parts and materials, as well as the outbound delivery of finished vehicles at a time of record low inventory in the US.
It is only with hindsight that greater OEM visibility of the supply chain through to the tier N level could have limited the damage that the semiconductor shortage has done to vehicle production globally. Market analyst IHS reports that the current global vehicle production shortfall stands at 8.2m units and is likely to hit 10.5m by the end of the year.
Company coordination
That multifaceted disruption is why those with responsibility for supply chain and logistics operations planning are now meeting with executive management on a more regular basis than previously, to get a consistently clear picture of exactly what is going on.
"We don't have a crystal ball and that is why we effectively have a sales and operations planning adjustment meeting on a weekly basis right now," said Grahovac.
Over at Nissan North America there is a lot more interaction between supply chain management, and sales and marketing teams, when it comes to production planning and sales forecasting, according to Chris Styles, vice-president of supply chain management.
"My counterparts sit in the sales and marketing function but they are in the day-to-day discussions about what we are doing from a supply chain standpoint ie what we are doing in the plants, what we are building and then what we need to do to fulfil the demand that they are seeing.
Styles explained further that Nissan established a Logistics Systems and Strategy team about three or four years ago to focus on what technology tools and other capabilities its supply chain team would need for the medium term. Previously those responsibilities were divided between operations.
"We separated it and formed a team, and we have continued growing that team," said Styles. Sales and operations planning is part of it and we are seeing the benefits of that now. And we are getting our voices heard much faster with our executives. They are understanding what we need and it makes a big difference."
Reinventing the new normal
Meanwhile, Volkswagen Group of America (VWGoA) has the advantage of already having oversight of each of its brand's functions and being able to coordinate each of their logistics requirements, such as service parts logistics, service workshops and technology, and customer relationship management.
"Being a group function we are in a unique situation to see how each brand does different things company-wide," said Anu Goel, executive vice-president for group after sales and services. "We lead a new initiative called Reinventing for the New Normal. That is to identify areas and processes, efficiencies and synergies, company-wide in the new business environment."
The disruption is also requiring the OEMs to be more flexible in their planning and faster at getting new systems in place, something that is made easier by the greater transparency afforded by closer coordination and regular communication.
"We don't know when we will be back to normal or what normal will look like, but we all know that we have been very flexible through this period and we have to make sure that we continue to do that," said Steve Brown, vice-president of parts supply chain planning at Toyota North America. That goes for supply chain, logistics and parts ordering, according to Brown.
Data-driven decision making
Achieving greater supply chain visibility on a company-wide basis and using it to be more flexible also depends on the use of new IT tools, which have been adopted at a much faster rate since the Covid pandemic hit.
Decisions now need to be data-driven and OEMs need to make the right investments in new technology.
"We are trying to prioritise where we are investing to get the biggest bang for our buck and make the biggest impact, especially given what we are dealing with now," said Nissan's Chris Styles, pointing to the important area of inventory optimisation.
Over at Toyota, Steve Brown said there had been a greater use of big data, especially on the service parts side of the business.
"Manufacturing has been on a journey for several years to fully visualise the supply chain, so we are continuing to execute and work on that side of it. Covid has changed some of our priorities. It has made us focus in on what are our priorities from an IT perspective."
At Honda, meanwhile, there is a move to ditch legacy systems and connect different functions within the company using data tools, thereby gaining a more comprehensive picture of the whole supply chain process.
"In some cases we are rethinking our ERP system completely," said Grahovac. "We are finding that from design to operation, to sales, how much disconnectedness there is and we are learning from it. What the continued crisis has done is made us learn more from diving into the data."
Grahovac went on to say that lessons could have been learned better from the Fukushima earthquake, which revealed that there was not enough visibility into the lower tiers, something that has come to prominence again in the semiconductor shortage. However, he said that the company was learning from the latest disruption and using it as an opportunity to enrich the data informing it Enterprise Solutions strategy moving forward.
Again, the reorganisation of the business into Honda Development and Manufacturing America, which went into effect in April this year, has enabled closer cooperation on the company's campaign to improve data quality and governance.
"Now we are under one organisation and we have the ability to execute data quality and performance a bit better," he said.
Supply chain and logistics is now a headline topic of discussion around the world and its significance, not only at a company level but cross industry, has become clear. The hope is that this revelation will help to attract a new generation of industry professionals who will also be attracted to the advance digital tools being used in the business. That way, the automotive supply chain will be ready with the talent as well as the tools when the next major challenge comes along.
The next Ultima Media conference will be Finished Vehicle Logistics North America, which takes place next month between November 9-11 in California