Jaguar Land Rover is cutting production of certain products at its Halewood and Solihull plants in UK between January and March next year because of the ongoing shortage of semiconductors, which is affecting carmakers globally.
According to the company, that will not affect overall volume output but rather foreground the production of vehicles with higher demand that can be finished with the available supply of semiconductors.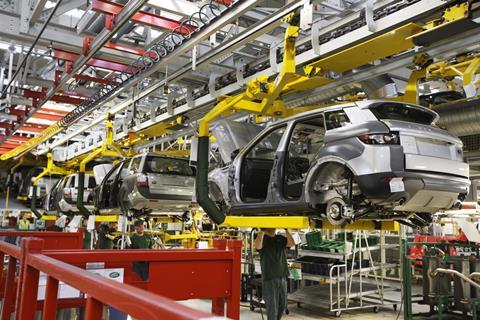 The company has 200,000 vehicles on order, with around 70% of that for Range Rover, Range Rover Sport and Land Rover Defender models.
The carmaker reported improving results for its second quarter with wholesales of 75,000, up 17.6% on the same quarter last year, but lower than planned as chip supply constraints continue. It also reported that its production ramp up of the new Range Rover and Range Rover Sport had improved with 13,537 units sold in the quarter, up from 5,790 in Q1.
Its strategy of maintaining production while altering the product mix to maximise the number of complete vehicles it can build to meet demand is one shared elsewhere in the industry.
"We continue to actively manage the operational patterns of our manufacturing plants whilst the industry experiences ongoing global semiconductor supply chain disruption," said the company in a statement, adding that demand for its vehicles remains strong. "We expect our performance to continue improving in the second half of the year, as new agreements with semiconductor partners take effect, enabling us to build and deliver more vehicles to our clients."
Last month JLR signed an agreement with electronics supplier Wolfspeed to supply semiconductors for the inverters used in its forthcoming electric vehicles (EVs). Inverters manage the transfer of power from the battery to the electric motor.
The first Range Rover vehicles using the technology will be available from 2024, and the new all-electric Jaguar brand the following year. The silicon carbide microchips will also be used in the Land Rover Defender and Discovery models.
UK losing ground
Carmakers are looking to secure more semiconductor manufacturing capacity dedicated to automotive through direct supply assurance agreements. However, the UK still has no dedicated semiconductor strategy in comparison to other markets. For example, the EU is proposing that 20% of its $917 billion Covid recovery fund goes to funding digital infrastructure, including the microelectronics industry. The US also recently approved $52 billion in funding for semiconductor manufacturing. There is no equivalent strategy in the UK.
This week, MPs urged the UK government to publish a long-delayed semiconductor strategy and to look for partnerships to secure the semiconductor supply chain in the UK. A House of Commons Committee report published on Monday (November 28) said the UK is particularly exposed to future disruption in global supplies of semiconductors and is falling behind other governments in mitigating such risks. Failure to do so could result in significant economic shocks to UK business, said the report.
UK car production returned to growth in October this year, rising 7.4% to 69,524 units, according to the latest from the Society of Motor Manufacturers and Traders (SMMT). The rise followed September's fall, which came after four consecutive months of growth, illustrating how supply chain turbulence, in particular global chip shortages, continues to affect UK car manufacturers.